CNS Reporter Pushes Anti-Dem Narrative Of His Employer
Topic: CNSNews.com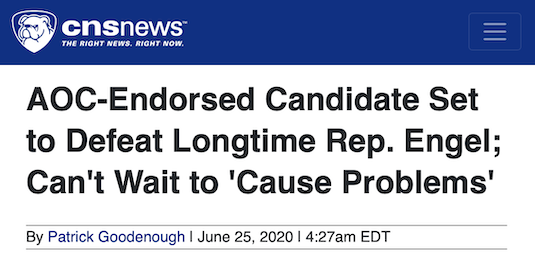 NSNews.com reporter Patrick Goodenough has evolved from being a relatively straight reporter to being a pro-Trump propagandist. When his reporting focuses on Democrats, that bias is clearer than evern.
In a June 25 article, Goodenough fretted over the defeat of Rep. Eliot Engel, "a 16-term veteran backed by the party establishment," in the Democratic primary for a New York House seat by Jamaal Bowman, who was "endorsed by the high-profile 'squad' member" Alexandria Ocasio-Cortez, who similarly defeated a longtime Democratic incumbent in a party primary. Goodenough references the "squad" four times in his article, while he also rushed to defend Engel as the kind of Democrat he prefers, or at least will tolerate:
Engel ticks many of the liberal Democrat [sic] boxes, as his campaign's Twitter feed made sure voters were reminded of on primary day, highlighting his 100 percent ratings from Planned Parenthood and NARAL Pro-Choice America, endorsements from the Sierra Club, Stonewall Democrats, New York AFL-CIO, among others, and his "F" rating from the NRA.

He also played a leading role in the impeachment of President Trump, a point underlined by Intelligence Committee chair Adam Schiff in his endorsement of Engel.

But his foreign policy stance puts him at odds with progressive activists: Engel voted in favor of the Iraq War, was the most prominent of a handful of House Democrats to oppose the Obama administration's Iran nuclear deal, and is viewed as one of the most pro-Israel voices in the Democratic caucus.
Goodenough also hyped Bowman's declaration that "I can't wait to get to DC and cause problems for those maintaining the status quo" -- putting it not onlyin the article itself but also in the caption of a picture of Bowman and in the headline.
Goodenough also misled about Ocasio-Cortez's primary in stating that she "easily won her primary in the 14th district, winning around 70 percent against a centrist challenger" (which, by the way, is the only reference to AOC's victory to be found at CNS). In fact, the challenger, former CNBC anchor Michelle Caruso-Cabrera, is not "centrist": she's a Republican disguised as a Democrat -- she even wrote a book touting conservative principles titled "You Know I'm Right" -- who didn't even live in the congressional district until a few months before she entered the race, having previously lived for years in a $15,000-a-month apartment in a Donald Trump-operated building in Manhattan. She also received financial support from business groups that normally support only Republicans.
Posted by Terry K. at 12:34 PM EDT