MRC Censored News of Tucker Carlson's Racist Writer -- Even As It Wrote About Carlson
Topic: Media Research Center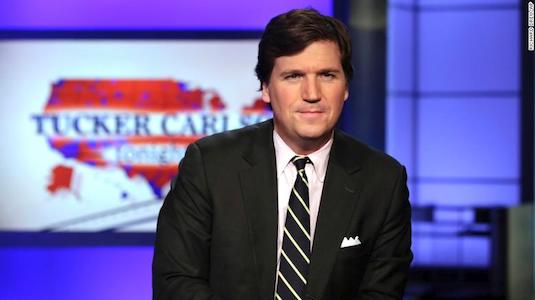 Last week, the head writer for Tucker Carlson's Fox News show, Blake Neff, was caught making years of racist, homophobic and misogynist posts under a pseudonym on a message board -- not to mention test-driving white nationalist memes that would later appear in sanitized form on Carlson's show. He quickly resigned followed by Carlson pretending to be horrified by Neff's comments, attacking the people who exposed Neff, and quickly exiting to take a "long-planned" vacation for the rest of the week.
You didn't read about any of this at the the Media Research Center's main outlet, NewsBusters -- even while it was touting other things Carson did at the same time.
In a July 11 post -- the day after Neff's offensive writings and subsequent resigation came to light -- Ryan Foley touted how "Tucker Carlson had it right when he described CNN anchors, including Lemon, as 'compliant' people who 'say what they're told,' 'tell the audience what the moment demands,' and 'never stray from the script.'" Foley didn't note whether Carlson was reading from Neff's script when he said that.
On July 13, Krstine Marsh complained that "the media has renewed their efforts to force high-rating Fox News Channel host Tucker Carlson off the air," grumbing further that hosts on "The View" had "claimed he was a homophobic racist who sends "dog whistles" to Fox News viewers with his commentary." She too made no mention of Neff's exposure and resignation three days earlier.
The same day, Nicholas Fondacaro wrote about how Carlson had as a guest "St. Louis lawyer and home defender Mark McCloskey" and how "Carlson also wanted to look at how the media were abusing them," gushing over how Carlson "astutely" handled the segment.He didn't mention that on that very same show, Carlson addressed the issue of his racist writer and announced his hasty "long-planned" vacation.
We heard nothing at all from Gabriel Hays, who spent last month mocking late-night host Jimmy Kimmel for leaving on a summer vacation after old blackface skits he did resurfaced. You'd think Carlson's disappearing act would be ripe for mocking, especially since abrupt vacations after disturbing revelations are a Fox News staple.
It wasn't until July 14 -- four days afater Neff was exposed and resigned -- until the MRC referenced the controversy ... in a way favorable as possible to Carlson, of course. Marsh portrayed Carlson as a victim of a "left-wing effort to get him taken off the air" and complained that the hosts of "The View" did what her co-worker did to Kimmel a few weeks earlier:
For the second day in a row, The Viewhas gone after Fox News primetime host Tucker Carlson, aiding the left-wing effort to get him taken off the air. Only host Meghan McCain blasted the "cancel culture," anti-free speech power trip the left is currently engaging in. But her co-hosts vehemently disagreed with her, proudly calling their intolerance for conservatives actually "accountability," not "canceling."

After Tucker Carlson addressed his head writer, Blake Neff, resigning after posting offensive comments under a pseudonym online, Carlson announced he would be taking a "long-planned" vacation the rest of the week. The liberal View hosts pounced on that announcement, saying his response about the show's former writer wasn't enough, before floating conspiracies that this "vacation" was Carlson escaping scrutiny:
Marsh didn't menion that her co-worker Hays was, by the same definition, pursuing a "conspiracy" against Kimmel, nor did she acknowledge that Fox News hosts have a history of abruptly departing for "vacation" in the midst of a controversy.
marsh further complained that co-host Whoopi Goldberg "repeatedly suggested, without evidence, that Carlson was a racist so he should be punished." It's as if Marsh has never watched Carlson's show. From there, it was straight to whataboutism: "Funny how it's just conservatives who are held 'accountable' while nothing happens to left-wing hosts like Joy Reid for similar situations. [Meghan] McCain actually brought that up, and Whoopi promptly cut her off to go to commercial break."
At no point did Marsh explain the "offensive" remarks that Neff made, nor did she express any criticism of them.
The MRC's effective silence on Carlson and Neff tells us how sympatico they actually are with Carlson's white nationalist-friendly agenda.
Posted by Terry K. at 9:55 PM EDT
Updated: Thursday, July 16, 2020 9:56 PM EDT