CNS Tries To Give Pelosi Equal Blame For Budget Deal, Though Trump & GOP Control Most of Government
Topic: CNSNews.com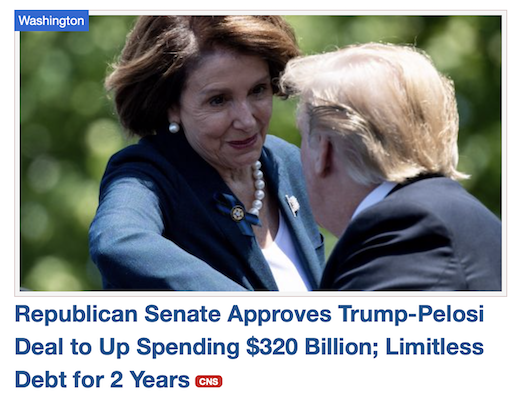 CNS editor in chief Terry Jeffrey's continued reluctance to assign President Trump and Republicans their share of the blame for large federal budget deficits heavily informed CNS' coverage of a federal budget deal. As the deal was announced and as it wound through Congress toward Trump's signature, CNS branded it as a co-equal deal between Trump and House Speaker Nancy Pelosi, even though Pelosi, a Democrat, controls only one-half of the legislative branch and Republicans control the other half plus the entire executive branch.
"Pelosi and Trump Agree to Increase Spending Over Next 2 Fiscal Years; Put No Limit on Debt Until 2021" read the headline on an anonymously written July 22 article announcing the agreement, which "will allow increases in discretionary spending over the next two fiscal years and place no limit on the new debt the federal government can accumulate until July 31, 2021." Note that Pelosi appears before Trump in the headline, as if she has more power than the president of the United States.
Jeffrey followed two days later with a column grousing about "the Trump-Pelosi debt-and-spending deal," making sure to stay on-brand with his invented nomenclature (he uses the "Trump-Pelosi" term four times as well as in his headline): "The Trump-Pelosi debt-and-spending deal is a short-term political win for the Washington establishment of both parties and a long-term loss for the American people. Rather than serve a great national interest, it attacks a great national interest: the solvency and future prosperity of this nation. It will not help Make America Great Again. It will make America bankrupt sooner."
At no point does Jeffrey specifically criticize Trump for his role in brokering this deal; instead, he whines about the "bipartisanship" that allegedly brought it about.
The next day, Jeffrey gave Republicans more credit than they deserve in an article headlined "132 House Republicans Vote Against Trump-Pelosi Spending Deal—But House Democrats Push It Through," blaming "overwhelming support from House Democrats" on its passage. He did note, though, that Trump urged Republicans to vote for the bill.
On July 26, CNS published another anonymously written article recalling a 2011 speech in which Pelosi said it's "time for this Congress of the United States to get serious about debt reduction." CNS did not run a similar article reviewing Trump's previous statements critical of deficit spending.
A July 29 article by Melanie Arter went into stenography mode for White House chief of staff Mick Mulvaney complaining that "if President Donald Trump could pass spending bills, the federal budget would be on the path to being balanced and the deficit would be down." Arter did include pushback from "Fox News Sunday" host Chris Wallace, who pointed out that Trump is the president and Republicans controlled Congress for the first two years of his presidency.
In an anonymously written Aug. 1 article noting the Senate's passage of the budget deal, Jeffrey's blame construct got a workout again: "Republican Senate Approves Trump-Pelosi Deal to Up Spending $320 Billion; Limitless Debt for 2 Years." The anonymous writer did admit that "President Donald Trump has aggressively promoted it and will sign it into law."
The next day, Mark Jennings touted Republican Rep. Rand Paul's objections to the budget bill, but he escaped Jeffrey's nomenclature by describing the bill as "arranged by President Trump and the congressional leadership" and not mentioning Pelosi by name at all.
With CNS' "news" side not daring to take digs at its favorite president the way it inserts editorial comment attacking Democrats, it was left to the actual labeled opinion side to call out Trump. A July 30 column by Daniel Mitchell claimed that Trump was "impersonating Obama with huge, across-the-board spending increases," failing to mention that Obama was dealing with a recession and deficit spending is an econonmically sound way to escape a recession and Trump doesn't have that excuse.
A column by Tony Perkins joined Jeffrey in blaming bipartisanship and refusing to call out Trump by name for his role in increasing deficits.
An Aug. 7 column by Mark Hendrickson, meanwhile, complained that "Trump readily agreed to Speaker Pelosi's domestic spending requests in exchange for relatively modest increases in military spending," but then shifted blame away: "Don't blame President Trump. Blame the tens of millions of voters who keep electing big spenders."
Posted by Terry K. at 3:31 PM EDT
Updated: Thursday, August 15, 2019 5:44 PM EDT