MRC Flip-Flops, Now Fully Defending Trump Against Media Attacks It Refused To Do When It Mattered
Topic: Media Research Center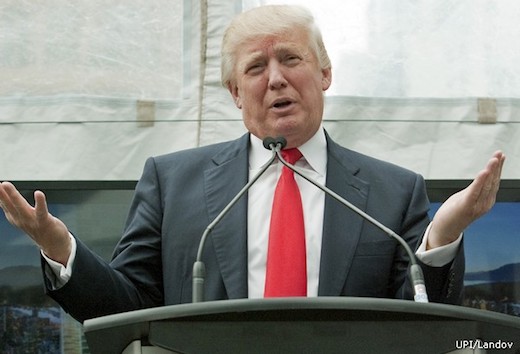 Last week, the Media Research Center whined that the "liberal media" did a critical story on Donald Trump the anti-Trump MRC's own "news" division, CNSNews.com, could have done months ago when Trump was not yet the presumptive Republican presidential nominee, but did not.
Now, the MRC is in full Trump-defending mode. Yes, MRC chief Brent Bozell once declared that Trump does not "walk with" conservatives, but he's clearly putting party loyalty ahead of whatever conservative priniciples he has.
The MRC is also contradicting its longtime refusal to come to Trump's defense when he complained about media bias (though that was mostly because he was complaining about Fox News, which the MRC is afraid to criticize lest it lose access to its highest-profile media outlet). But bashing the "liberal media" comes before principle at the MRC.
So, we have the MRC's Clay Waters whining that the New York Times documented Trump's long history of sexist behavior toward women. He made sure to highlight that these "unflattering" stories, "many of them 20 years old," took "five Times reporters" to cover.
Remember it was just a few weeks ago that the MRC was simultaneously claiming that the overall negative tone of the media's Trump coverage was irrelevant but also not negative enough.
Waters then immediately launched into the ol' Clinton Equivocation:
The Trump behavior described by the various women is immature and boorish. But did former president Bill Clinton's sexual history or his multiple sex (and worse) scandals get this sort of front-page over-the-fold analysis? Hardly. In fact, during the 1992 campaign, the Times referred to blockbuster rape allegations made against Clinton by former Arkansas nursing home administrator Juanita Broaddrick as typical "toxic waste" and did everything it could over the years to avoid covering the story.

[...]

Yet when Juanita Broaddrick's allegation of sexual assault by Bill Clinton finally emerged publicly in 1999 in the Wall Street Journal, the Times sniffed that her claim had obvious problems and defended its failure to cover them, blaming nationwide "scandal fatigue" and lamenting that "smaller outlets on the Internet and cable television" were "overwhelming the slower and more sober judgments of mainstream news organizations" in having the gall to publish a sex candal involving a Democrat president (this less than a year past wall-to-wall coverage of Anita Hill's claims against Clarence Thomas).

The Times did its best first to ignore, then discredit the story, calling the Wall Street Journal editorial page "one of the nation's most conservative and a strident critic of Mr. Clinton." Times reporters Felicity Barringer and David Firestone in February 1999 explained why their paper passed on Broaddrick's rape allegations in 1992, when coverage could have swung the election.
But it's in the excerpt of that Times defense that the truth -- which Waters doesn't otherwise acknowledge -- comes out: Broaddrick was denying in 1992 there was any attack, and later made that denial under oath. She later flip-flopped. Which means Broaddrick is a liar -- she was either lying then or is lying now.
Nicholas Fondacaro followed up by attacking ABC for reporting on the Times story, in a post headlined "ABC Takes NYT's Bait: Network Reports on Trump Hit Piece." Does that mean the MRC is taking Trump's bait by rushing to his defense?
Fondacaro then latched onto how one of the Times' interviewees, Rowanne Brewer Lane, "has spoken out about her words being twisted by the paper." But the Washington Post's Callum Borchers points out that Brewer Lane is falsely claiming that the Times said Trump "paraded" her in a swimsuit she was asked by Trump to change into; that word appears nowhere in the Times article. Borchers adds:
Many people would surely view Trump's behavior that night 26 years ago as inappropriate — or at the very least, rather forward. He chatted up a model for 20 minutes, invited her to put on the spare bikini he just happened to have lying around and then — while still technically married — introduced her to other guests as a "stunning Trump girl," as if she were somehow Trump's. It's not much of a stretch to call this sequence of events a "debasing face-to-face encounter," as the Times did.

[...]

Even if Brewer Lane's grievances did necessitate a correction, they wouldn't invalidate the premise of an entire 5,000-word story based on interviews with more than 50 women.
But now that the MRC is on Trump's side, that's exactly what it wants its followers to believe. And it comes straight from the top.
In their May 18 column, Bozell and Tim Graham summarize all of this, ranting about both how the Times dismissed Broaddrick (while, like Waters, ignoring that she's a documented liar) and how Brewer Lane's criticism of the story meansthe entire story "quickly blew up in [the Times'] faces." They huffily conclude:
It's safe to say that Trump is no one's idea of Mr. Manners. His rudeness toward women was summarized by Fox's Megyn Kelly at the first GOP debate. And the way Trump treated her afterward underlined it. But The New York Times now has no right whatsoever to pass judgment on presidential candidates and their treatment of women.
Oh, please. Bozell and the rest of the flip-flopping MRC have no right whatsoever to pass judgment on the "liberal media" for doing the job the right-wing media wouldn't in vetting Trump.
Posted by Terry K. at 1:55 PM EDT