WND's Farah Boards The Vaccine-Lie Bandwagon
Topic: WorldNetDaily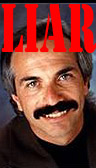 The fact that it simply isn't true that the measles vaccine has killed dozens of people will not keep WorldNetDaily from repeating. And now WND editor Joseph Farah is parroting it.
Farah writes in his Feb. 9 WND column:
When was the last death from measles in the U.S.? Anyone know.

Dr. Lee Hieb, an expert in the field, says 2005. But the vaccine that prevents measles infection has taken the lives of 86 in that time, she reports – 68 of them 3-years-old or younger. Almost 2,000 were permanently disabled by the vaccine.

And Bill Press wants government to mandate forcible vaccines for all children, despite the obvious fact that the shot is far more dangerous than the illness.
As we've documented, the Vaccine Adverse Event Reporting System, which tracks claims of adverse events to vaccines and which Hieb cites as the source of her claim, clearly and explictly states that it does not verify whether a cause-and-effect relationship exists between vaccines and the reported adverse effects, and that "No proof that the event was caused by the vaccine is required in order for VAERS to accept the report." Hieb ignored this disclaimer, making her claim false -- and making Farah a liar yet again for repeating something he should know is a falsehood.
In a delicious irony, Farah's column appeared at WND the same day it published the latest from syndicated columnist Thomas Sowell, who points out that "false claims, based on other false claims, led many parents to stop getting their children vaccinated against measles."
Sowell also noted that "crusading movements are seldom stopped by facts." As a man who pretends to be a journalist but embraces lies, Farah provides a clear example that even Sowell could not have anticipated.
Posted by Terry K. at 1:35 AM EST