WND Repeats Vaccine-Death Falsehood
Topic: WorldNetDaily
An unbylined Feb. 7 WorldNetDaily article states:
WASHINGTON – While those opposing mandatory vaccination for measles are widely portrayed as ignorant and even dangerous by some officials, pundits and even news media accounts, Centers for Disease Control records reveal a startling truth – while no one has died of measles in the U.S. in the last 12 years, 108 have died as a result of the adverse effects of the vaccine in that same time period.

The death statistics are recorded by Vaccine Adverse Event Reporting System, or VAERS, which captures only a small percentage of the actual number of deaths and other adverse reactions to the vaccine. In addition, 96 of the 108 deaths in that 12-year time period were a result of the MMR vaccine, now the preferred shot for measles immunization.
Beyond the fact that one key reason there have been no deaths from measles in the past 12 years in the U.S. is because there is a measles vaccine, WND repeats a falsehood about vaccine deaths.
VAERS does not claim that the claimed adverse reactions to vaccines it documents are directly attributable to the vaccine. VAERS explicitly states on its website:
When evaluating data from VAERS, it is important to note that for any reported event, no cause-and-effect relationship has been established. Reports of all possible associations between vaccines and adverse events (possible side effects) are filed in VAERS. Therefore, VAERS collects data on any adverse event following vaccination, be it coincidental or truly caused by a vaccine. The report of an adverse event to VAERS is not documentation that a vaccine caused the event.

[...]

A report to VAERS generally does not prove that the identified vaccine(s) caused the adverse event described. It only confirms that the reported event occurred sometime after vaccine was given. No proof that the event was caused by the vaccine is required in order for VAERS to accept the report. VAERS accepts all reports without judging whether the event was caused by the vaccine.
WND also quotes Dr. Lee Hieb -- the fringe-linked doctor and author of a new WND-published book fearmongering about Obamacare -- making a similar claim.
For Hieb and WND to claim that VAERS proves that vaccines kill is, thus, a lie.
The WND article also includes this graphic: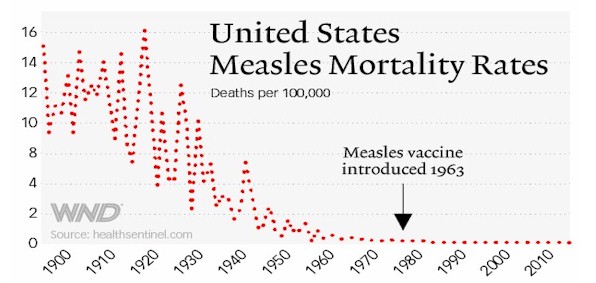 Note that the arrow pointing to the measles vaccine being introduced in 1963 is pointing to somwhere in the late 1970s. WND has since updated the graphic with the arrow correctly pointing to 1963.
Also, the source for WND's information, Health Sentinel, is a blog is filled with vaccine skepticism -- one article asks if vaccines are "a waste of time."
Posted by Terry K. at 12:44 PM EST