WND Tries, Fails, To Turn SPLC Criticism of Ben Carson Into Attack From 'Hate Group'
Topic: WorldNetDaily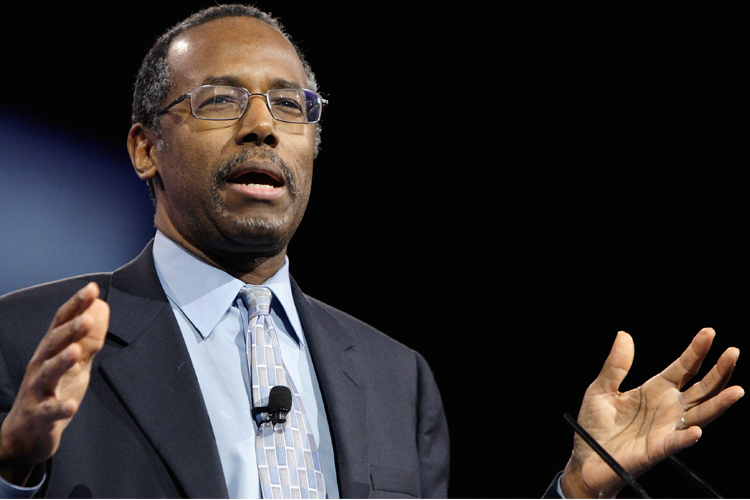 From an unbylined Feb. 8 WorldNetDaily article:
How politically extreme is the Southern Poverty Law Center, a well-funded legal hate group known for its guilt-by-association tactics and whipping up hysteria over the ever-present threat of a second coming of the Ku Klux Klan?

The latest target to be placed on the group's "extremist watch list" will give you a clue.

He's a highly acclaimed brain surgeon, potential presidential candidate and, according to polls, one of America's most admired celebrities.

That's right. Dr. Ben Carson.

The reason? He's against same-sex marriage.

From the SPLC website: "Ben Carson rapidly ascended as a far-right political star after publicly scolding President Obama, whom he sat a few feet away from, at a National Prayer Breakfast in February 2013. Carson's reproach of Obama for his health care and tax policies went viral, unleashing a flood of adulation from right-wing media and hate groups."

SPLC unfairly labels him "anti-gay."
Ah, so much to respond to:
1) It's rather hiliarious that WND -- the king of likening Obama to Hitler and other Nazis (not to mention the Antichrist) and fearmongering about vaccines -- would attempt to criticize the SPLC for using "guilt-by-association tactics" and "whipping up hysteria."
2) WND doesn't bother to link to the SPLC article on Carson, so you know it's trying to hide something. And when you actually look at the SPLC's profile of Carson, the first thing you'll notice is that at no point is Carson described as being on an "extremist watch list." WND appears to have lifted the phrase from a post at the right-wing blog Legal Insurrection, which Talking Points Memo states "appeared to have been the first to notice" Carson's SPLC profile.
3) The next thing you'll notice in the SPLC profile is that Carson isn't being criticized for merely being "against same-sex marriage" as WND claims. He's being criticized for portraying homosexuality as equivalent to bestiality and pedophilia.
4) The term "anti-gay" appears nowhere in the SPLC profile, despite WND putting it in quotes. The SPLC describes his "ideology" as "anti-LGBT," and it points out that Carson has spoken to "anti-LGBT" groups.
5) At no point does WND demonstrate what is "unfair" about highlighting Carson's anti-gay rhetoric. Instead, it simply quotes what Carson said, then blamed the SPLC for Floyd Lee Corkins' attempted shooting spree at the Family Research Council because Corkins "admitted that he used SPLC's hate map to identify FRC as a target."

By that same logic, we should credit WND for helping to inspire Anders Breivik's massacre of dozens in Norway since his manifesto cites WND six times.
In a (similarly unbylined) follow-up article, WND falsely claims the SPLC called Carson a "hater" and repeated the inaccurate "extremist watch list" phrase. The article claims to quote Carson responding to the SPLC designation, but it's unclear where the quotes came from -- WND does not identify their source, and none of the quoted matter specifically references the SPLC.
Interestingly, a Breitbart article carries the same alleged quotes from Carson but also doesn't identify their source. Did WND steal Breitbart's story like it did Legal Insurrection's? If so, that would explain why the WND writer did not want to put his or her name on this work.
Actually, it appears Carson made his statements to the Daily Mail, which neither WND nor Breitbart credit. (Fun fact: The Daily Mail's U.S. political desk is helmed by David Martosko, the former managing editor for the Daily Caller, where he was best known for defending reporting that was clearly false.)
Further, neither article shows any effort on WND's part to contact the SPLC for an explantion of its Carson profile -- that would be too much like journalism, apparently. TPM, meanwhile, did what WND couldn't be bothered to do:
SPLC spokesman Mark Potok told TPM on Monday that including Carson in the organization's "extremist files" isn't tantamount to following the potential presidential contender around in fear that he is plotting to blow up a federal building.

"Our criticism of him was based in large part on his very extreme rhetoric about the evils of gay people," Potok told TPM by phone. "He says that any criticism he makes is always kind and never meant to destroy the person, but then he says that gay marriage will lead to the destruction of America much in the same way the Roman Empire collapsed."
Stealing the work of others, the inability to get basic facts correct and refusal to exhibit any sort of fairness demonstrate why nobody believes WND.
Posted by Terry K. at 12:24 PM EST