MRC Whines That Musk And Twitter (Well, X) Are Being Criticized
Topic: Media Research Center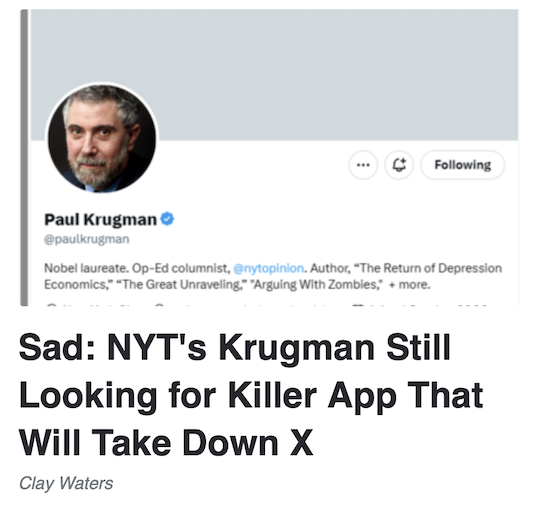 As the first anniversary of Elon Musk's takeover of Twitter (well, X) approached, the bad news and overall pettiness continued to mount:
The Media Research Center, of course, cared nothing about this -- it's Musk's PR operation, after all, and he must be promoted and defended. Clay Waters rushed to Musk's defense in an Oct. 15 post about a PBA "Frontline" documentary on Musk:
On the newest episode of tax-supported PBS's notorious left-wing series Frontline, they spent two hours obsessing over Elon Musk's Twitter takeover. Twitter was never this problematic when it was colluding with the Democrats and the media to suppress conservative speech. Now they're forwarding former Twitter censor Yoel Roth's ridiculous denials of the platform's ideological bias before Musk.

Correspondent James Jacoby traced space entrepreneur Elon Musk's journey from "provocative" Twitter user to sole owner of the social media platform (which he renamed "X"). Jacobs provided a mixed bag of a report, but did draw out Twitter's former "trust and safety" guy Yoel Roth to make some ridiculous denials of the platform's ideological bias.

The episode opened with an ominous montage of quotes from Musk critics, including Roth saying "harassment has increased" since Musk's takeover. That was followed by showing a 2018 launch of one of Musk's SpaceX reusable rockets, with Jacoby foreshadowing that Musk "provided running commentary at his favorite place to express himself: the social media site Twitter." (Musk's would purchase Twitter in 2022 and rename it X).

Musk is being investigated for having too much influence in the "wrong direction" in a time of "deep division."
Waters went on to whine that former Twitter official Yoel Roth -- whose harassment by Musk and Donald Trump, which prompted him to flee his home over fears of violence, the MRC disgustingly cheered -- pointed out the right-wing anti-Twitter narrative before Musk entered the picture:
Jacoby did question Yoel Roth, former head of "trust and safety" at Twitter, taking conservative complaints about free-speech suppression on Twitter more seriously than most mainstream journalists. At one point he asked Roth: "How did you think about your role as sort of an arbiter of truth?….But it does put you at Twitter in the uncomfortable position of having to kind of determine something as misinformation, determine something as being a lie."

Isaacson took up for his colleagues in the mainstream media: "But it was mostly a signal that [Musk] had joined that, I'd call it the somewhat conspiratorial people on the right who feel that the media and the establishment are imposing a narrative on us." Yet Isaacson actually conceded a "conspiratorial" point, that Musk was "noticing that on Twitter if you said that lockdowns could cause more harm than good, you'd be kind of repressed on Twitter. So this made him upset."
Waters didn't explain how right-wingers like him and the MRC who repeatedly lashed out at pre-Musak Twitter were not "conspiratorial people."
Waters returned to whine in an Oct. 22 post that New York Times columnist Paul Krugman was promoting Twitter alternatives:
Since there's evidently nothing else going on in the world worth commenting on, economist turned partisan hack columnist Paul Krugman is again going after the left's current public enemy No. 1, Elon Musk and his ownership of X (formerly Twitter).
Krugman wrote a similar column-length rant in December 2022 about how Twitter was doomed under Musk's leadership, under the headline"Why Petulant Oligarchs Rule Our World," concluding by pushing his own esteemed presence on new X-type "micro-blogging" platform, Mastodon. (You remember Mastodon, right? Even with encouraging press coverage, the platform is still far behind X in regular users.)

In his latest column, "Can Twitter, uh, X, Survive Elon Musk?" Krugman, for some reason, doesn't even mention Mastodon, and indeed he doesn't appear as active there as he is on X, perhaps because his followers haven't followed him there (he has 41,000 Mastodon followers vs. 4.5 million on X, a disparity of over 100 to 1). This time around, Krugman suggests the hot new sites that will overtake Twitter are Threads and/or Bluesky.[...]

But so far those "network externalities" Krugman talked about are holding up. Despite Musk's seemingly capricious changes to the platform, X is still where the mass audience Krugman wants to reach remains, and so far they are not following him anywhere else. Perhaps more trademark stellar Krugman prophecy is required to find the killer app that will finally take down X?
Actually, the number of active Twitter users in the U.S. has dropped 18 percent in the year since Musk bought it, so it's not so much of the "mass audience" Waters believes is still there.
Posted by Terry K. at 10:15 PM EST
Updated: Monday, November 20, 2023 2:26 AM EST