MRC Disgustingly Cheers Harassment Of Ex-Twitter Executive, Is Bizarrely Angry He's Pointing It Out
Topic: Media Research Center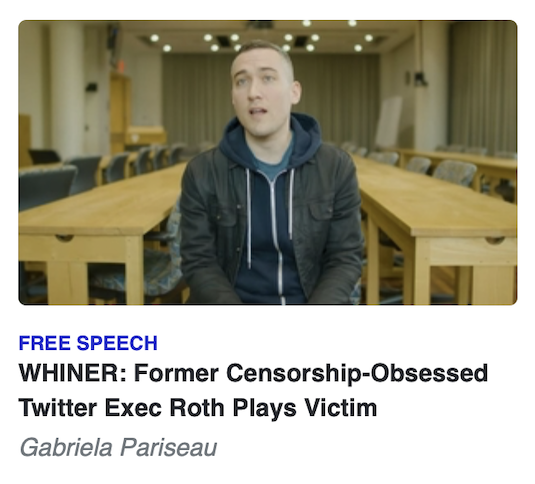 Yoel Roth, former head of trust and safety at Twitter, wrote an essay for the New York Times about how Donald Trump and Elon Musk targeted him for harassment -- which included Musk maliciously suggesting that he was a pedophile -- the result of which was that "I've lived with armed guards outside my home and have had to upend my family, go into hiding for months and repeatedly move." The point of his essay, according to Mediaite, was that "The central premise of his argument is that Twitter, and other platforms, are under attack from forces that wish to weaponize them to spew hate and division while recruiting for authoritarian causes.
Naturally, the Musk-fluffers at the Media Research Center tought this was absolutely hilarious. They believe Roth deserves to be harassed -- unto death, apparently -- for the sin of trying to protect users from hateand harassment. Gabriela Pariseau wrote a hateful Sept. 21 screed headlined "WHINER":
Twitter's former head of Trust and Safety Yoel Roth wrote a New York Times op-ed that can only be described as one long whiny self-victimizing rant.

From the headline to the last word, Roth pathetically begged readers for pity from while complaining about being attacked for censoring former president Donald Trump. "I Was Attacked by Trump and Musk. It Was a Strategy to Change What You See Online," the headline read before The Times edited it to be something less laughable.

Yes, the man who quite literally led the department at Twitter that changed and controlled "what you see online" now doesn't like the taste of his own medicine. "Backed by fans on social media, Mr. Trump publicly attacked me. Two years later, following his acquisition of Twitter and after I resigned my role as the company's head of trust and safety, Elon Musk added fuel to the fire,". he wrote.

Roth noted being harassed by internet trolls after Trump and his staff called attention to him and the censorship he and his team relentlessly carried out against users who bucked leftist narratives. "I've learned that what happened to me wasn't an accident," Roth claimed. "It was a strategy — one that affects not just targeted individuals like me, but all of us, as it is rapidly changing what we see online." The lack of self-awareness is deafening.
As is Pariseau's lack of awareness that she's endorsing threats and violence against someone who helped run a social media websites. Imagine how giddy Pariseau and the rest of the MRC will be if someone actually murders Roth after being incited by Trump and Musk. She also curiously failed to mention that Musk falsely and maliciously smeared Roth as a pedophile, and she failed to explain how, exactly, it was "laughable" for Roth to point out that his dehumanization was part of a strategy by Musk to make Twitter more chaotic and hate-filled.
Pariseau's own hate-filled whinefest continued as she complained that Roth pointed out that lies and hate are spreading more aggressively on Twitter:
Roth spent the majority of his complaint lamenting that the so-called "safety" structures he and his team built to censor content are being dismantled.

"Universities are cutting back on efforts to quantify abusive and misleading information spreading online," he wrote. "Social media companies are shying away from making the kind of difficult decisions my team did when we intervened against Mr. Trump's lies about the 2020 election."

With dramatic flair, Roth added "These attacks on internet safety and security come at a moment when the stakes for democracy could not be higher."

It would be remiss not to mention Roth's dismissal of The Twitter Files which repeatedly implicate him. "The files were hyped by Mr. Musk as a groundbreaking form of transparency, purportedly exposing for the first time the way Twitter's coastal liberal bias stifles conservative content." Citing TechDirt journalist Mike Masnick he responded claiming "in the end 'there was absolutely nothing of interest' in the documents, and what little there was had significant factual errors."

Well, Mr. Roth, if the Twitter Files are significantly inaccurate, please enlighten the public.
Um, Gabriela, you just quoted Roth doing exactly that -- and you didn't disprove him.
Pariseau closed by ranting: "While the U.S. government working with Twitter to silence Americans' discussion, memes, genuine concerns, and questions may be of no interest to you, to many Americans it is an egregious violation of the First Amendment that should never happen again." She didn't expalin why trying to stop lies and hate on Twitter is an "egregious violation of the First Amendment that should never happen again" -- or just how happy she will be if somebody murders Roth.
Posted by Terry K. at 10:37 PM EDT