MRC Did What It Could To Try And Salvage Herschel Walker In Runoff
Topic: Media Research Center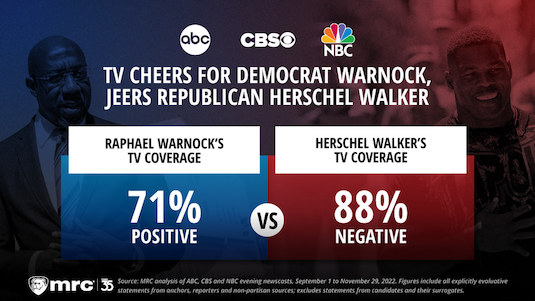 After a slow start, the Media Research Center ramped up its defense of abortion-loving Herschel Walker as he faced a runoff against Raphael Warnock for a Georgia Senate seat. When Walker was criticized for an ad that went for the base-motivating low-hanging fruit of anti-transgender feamongering, Jay Maxson -- who is very much a transphob despite having a name and so little public information that we can't tell his or her sex or sexual orientation -- rushed to his defense in a Nov. 23 post:
U.S. Senate candidate Herschel Walker's latest campaign ad exposed his Democrat rival, Sen. Raphael Warnock, for supporting the transgender threat to women's sports. Angered LGBT propagandists lashed out, accusing Walker of dehumanizing people who are psychologically confused about their gender and by trying to tie him to a horrible shooting at an LGBT club in Colorado.

[...]

Several states have been legislating against the kind of unfairness Walker and Riley highlighted in the recent ad. But when politics are involved, the opponents of radical LGBT demands must be demonized. It's part of the Left's playbook.
Rich Noyes whined in a Nov. 26 post that reasonable assessments of Walker were being made on TV:
As early voting began Saturday in the run-off election in Georgia for the final U.S. Senate seat up for grabs in 2022, MSNBC's Velshi brought on left-wing media personality Roland Martin to talk up the importance of voting for Democratic Senator Raphael Warnock while hurling insults at GOP challenger Herschel Walker.

"Herschel Walker is grossly unqualified and has no business being anywhere near the United States Senate," Martin seethed, while condemning Republican voters as uninterested in character. "It doesn't matter what Herschel Walker has done when it comes to paying for abortions. I mean, look at one of the women who says she has an audiotape of him as well; that had barely a ripple. Republicans do not care. They do not care."
Noyes did not dispupte the accuracy of Martin's assessment.
After someone else criticized Walker's anti-trans ad, Kevin Tober rushed to defense mode:
Much like the rest of the leftist media, CNN has a difficult time grasping the concept of biology and science. This basic fact was once again on full display on the network's Sunday show State of the Union when co-moderator Dana Bash took issue with Georgia Republican Senate candidate Herschel Walker's ad criticizing men competing with women in sports, in this case competitive swimming. Bash thought Walker's ad "targets" trans people.

[...]

The basic science and biology that CNN doesn't understand is that men are naturally stronger physically than women and it's unfair to let men compete with women in sports and pretend that there will be an even playing field.

It's not an attack on transgender people to point that out.
Noyes cranked yet another coverage study for a Dec. 1 post:
In an election year where the liberal media pounded Republicans with while rewarding Democrats with a favorable news agenda, no race has seen more manipulative national media coverage than the Georgia Senate race between incumbent Democrat Raphael Warnock and Republican challenger Herschel Walker.

With the decisive run-off just days away, a new study by the Media Research Center finds the ABC, CBS and NBC evening newscasts have blasted the GOP candidate with 88 percent negative coverage, while the Democratic incumbent has enjoyed 71 percent positive press. More than half of the coverage (nearly 46 minutes, out of 87 minutes total) has consisted of personal allegations against Walker, vs. a mere 11 seconds spent on personal accusations against Warnock.

Abortion was the only policy issue to receive significant airtime (just under four minutes), and network reporters unanimously employed the "abortion rights" labels preferred by the Left, using it to tar Walker as a threat to women while concealing Warnock's extremism on the same issue.

[...]

Walker's coverage was dominated by claims — denied by Walker himself and not proved by any media outlet — that he paid for abortions for two girlfriends decades ago (36 minutes, 21 seconds of airtime). The networks also provided a combined four minutes, 28 seconds to the flap over Walker's display of an honorary police badge at his debate with Warnock; two more minutes on accusations he's an absentee father; plus another two minutes, 50 seconds for other personal controversies.

The combined 45 minutes, 40 seconds spent on this cornucopia of charges against Walker amount to half (51%) of all network evening news coverage of the Georgia Senate race since September 1. Compare that to the meager 11 seconds — on ABC, October 16 — spent on relaying an allegation against Warnock that he's failed to pay adequate child support.

The media's silence cannot be justified — reporters covering the race knew about Warnock's child support problem for the entire campaign.

Noyes offered no evidence that Warnock's alleged scandals were the equivalent of Walker's actual scandals, and thus warranted equal coverage.
Noyes' dishonesty continued, as he went on to whine about Warnock's alleged "abortion extremism," but defined "extremism" citing only right-wing writer Rich Lowry. Painting any position on abortion that isn't as far-right as its own as "extreme" is an MRC narrative.
As with most MRC "studies," Noyes pretended "spin" is something that could be objectively evaluated, pretended that neutral coverage didn't exist even though that's a large part of media coverage, and excluded Fox News from scrutiny. He's also demanding false balance -- even though he failed to provide an example of how Walker's abortion scandal or multiple-baby-mama scandal should have been given "positive" coverage.
In contrast to its cheering for the anti-trans Walker ad, the MRC's Clay Waters spent a Dec. 1 post raging at a Warnock ad making Walker look bad that got praise from the New York Times, huffing: "So much for the Times' former tut-tutting about negative campaigning." He went on to get his anti-Warnock talking points in:
Speaking of indulging partisan desires, the Times has barely broached allegations about Warnock's failure to provide child support payments to his ex-wife, which would seemingly invite journalistic charges of religious hypocrisy against a man of the cloth like Rev. Warnock.

The Times certainly hasn't ignored allegations that Herschel Walker paid for abortions for two women, but has issued several detailed accounts.
Waters didn't explain why Walker's abortion scandal should not have been covered.
Curtis Houck had a fit of Obama Derangement Syndrome in a Dec. 2 post:
Just a day after our latest study showing a cavernous divide in the liberal media's treatment of Senator Raphael Warnock (D) versus Republican Herschel Walker in Georgia's Senate runoff, Friday's CBS Mornings further proved our point by leading with former President Barack Obama's campaign rally for Warnock filled with "zingers" and fixating on more negative headlines for Walker.

Co-host, Democratic donor, and Obama family friend Gayle King started the newscast with her friend's trip to the Peach State: "Senator Raphael Warnock is getting some prominent help in trying to fend off a challenge from Republican Herschel Walker. Former President Barack Obama hit the campaign trail in Atlanta to make a very forceful argument on Warnock's behalf."

[...]

Two more Obama clips later, she boasted Obama "took another jab at Warnock's opponent, Herschel Walker" as juvenile. Obama's evidence? Walker joking during a speech two weeks ago that he'd want to be a werewolf instead of a vampire.
But the link Houck supplied to portray Walker's remarks as "joking" -- from the UK Guardian, which the MRC likes to dismiss as liberal -- said no such thing, instead calling it part of "rambling remarks."
Posted by Terry K. at 9:22 PM EST