MRC Slow To Restart Defense Of Walker for Runoff
Topic: Media Research Center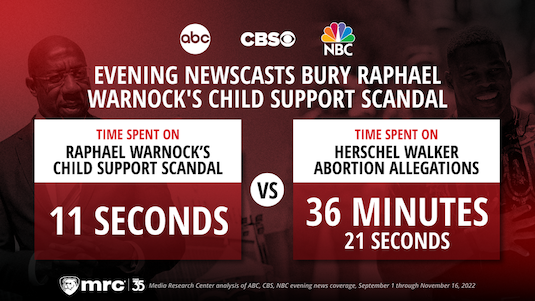 It seemed that even the Media Research Center was getting tired of having to defend Herschel Walker before the midterm elections. We've already noted its tepid complaint about too much "negative" coverage of Walker, but it started petering out shortly after it had to defend him over another abortion scandal. Indeed, the only major defense it attempted was in a Nov. 5 post by Mark Finkelstein complaining that MSNBC's Joe Scarborough criticized "black Republican" Walker as lacking "the capacity" to be a senator: "The way Scarborough stumbled and and sighed before claiming Walker lacks 'the capacity' to serve suggested that Joe realized he was getting into dangerous territory. But he decided to go there." And even then, Finkelstein didn't try to counter it.
With no candidate getting a majority in the Georgia Senate race, it was set to to to a runoff between Walker and MRC-detested Democrat Raphael Warnock. A Nov. 14 post by Brad Wimouth was reduced to complaining about a slavery reference:
Several times on Saturday, CNN demonstrated its inability to grasp fact as well as its fixation on racial issues that strained for a reason to discuss slavery within topics you wouldn't expect it. Previewing the upcoming Georgia runoff between Democratic Senator Raphael Warnock and Republican nominee Herschel Walker, correspondent Nadia Romero tried to tie the runoff system to slavery.

She first raised the topic at 8:03 a.m. Eastern during an appearance on CNN This Morning Weekend: "So let's talk about the runoff elections in Georgia as a whole. Usually, you see these runoff elections happening in the South -- in the Bible Belt -- in states that were formerly slave-owning states. And that is why so many people, including the Georgia NAACP, say that there is a racist element to why we have runoff elections as a total."

[...]

But her tracing of the system back to the Reconstruction era of the late 1800s was contradicted two years ago by NBC News correspondent Priscilla Thompson, who recalled that the system was devised in the 1960s after the Supreme Court ruled against previous tactics in limiting black power.

And if the system is inherently racist and meant to penalize the party black Georgians predominantly support (Democrats), then Romero should be asked if it was racist that then-incumbent Senator David Purdue (R) won the initial 2020 vote but later lost the seat due to a runoff stemming from his inability to hit 50 percent.
It's a sign of how much of a non-person Perdue became in Republican circiles after losing that Wilmouth couldn't be bothered to spell his name correctly.
Having finally recovered from its exhaustion, the MRC became ready to defend Walker anew for the runoff. Geoffrey Dickens served up another so-called study on Nov. 17 complaining about an alleged coverage disparity:
The double-standard is atrocious. The Big Three (ABC, CBS, NBC) evening newscasts have almost completely buried Democratic Senator Raphael Warnock's child support scandal, spending only 11 seconds on it since September 1.

In stark contrast, the network evening newscasts (September 1 - November 16) flooded their airwaves (36 minutes, 21 seconds) with stories of women accusing his GOP opponent Herschel Walker of paying for abortions. That's almost 200 times more coverage to the Walker story than the Warnock scandal.

On Tuesday, Warnock's ex-wife Oulèye Ndoye requested that a court compel the Georgia Senator to face questioning over child custody. Ndoye has also accused Warnock of failing to properly pay child care expenses. Despite the issue being brought up in the October 14 Walker-Warnock debate the evening newscasts mostly looked the other way.

[...]

With the two Senate candidates headed for a run-off the evening newscasts have a new opportunity to actually cover Warnock's family problems but judging on their past coverage, viewers shouldn't hold their breath waiting for it.
Dickens didn't explain why he's demanding coverage of a minor child-support squabble when he and his stauchly anti-abortion co-workers have refused to criticize Walker's penchant for handing out abortions like candy. Nor did he explain why these stories are in any way equivalent.
Posted by Terry K. at 8:32 PM EST