WND's Farah Falsely Claims Bundy Is Victim Of A Sting
Topic: WorldNetDaily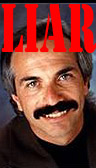 Joseph Farah huffs in his April 24 WorldNetDaily article:
There's some high-fiving going on over at the New York Times.

A reporter got Cliven Bundy, the Nevada rancher who became a hero to millions for standing up to gun-toting federal authorities, to step in a big cow pie.

In a profile of Bundy, who likely didn't have the benefit of a slick New York public relations firm to keep him to the script, the Times apparently got him to say some appallingly racist remarks. It's unclear what the context of those remarks were, if there is a recording or what the circumstances were that prompted them.

[...]

This was a sting operation by the New York Times. The entrapment target wasn't so much Bundy, but anyone in public life who denounced the Bureau of Land Management's Gestapo-like tactics in dealing with him.

[...]

Criminal suspects who are entrapped by authorities in sting operations often see their cases dismissed.

Cliven Bundy won't be so fortunate after been stung by the New York Times.
Farah is lying (which he does a lot). New York Times reporter Adam Nagourney explained to Politico that he did nothing to prompt Bundy to say his racist remarks:
Nagourney, who interviewed Bundy and reported on the statements, said he didn't ask a question during the press conference, where the only members of the media were himself and a Times photographer.

"The stuff he is in trouble over today was stuff he said on his own unprompted toward the beginning of the event. He said it and I just kept my head down, kept my tape recorder on took notes and that was it," Nagourney said.

None of Bundy's supporters seemed to react to the quote and no one from Bundy's entourage sought to clarify or defend it while he was visiting, Nagourney said, though he immediately knew it was going to be big.

"It's just one of those things you hear it and you go this is really news, N-E-W-S," he said.

Nagourney visited Bundy's ranch on Saturday but said he didn't publish the piece until Wednesday because there were no other outlets there to compete with, which gave them time to "get the story right."

[...]

"I'm really into transparency, the key point was I was there and with him, I was holding a tape recorder and a notebook, it wasn't like sneaking into a meeting, it was a public event he called a press conference," Nagourney said.
Perhaps Farah assumes there was some dishonesty in Nagourney's reporting because that's how he runs WND. Dishonesty abounds in WND's journalism -- that's Farah style, so it's no wonder he thinks other journalists are as dishonest as the ones he employs.
While Farah concedes that Bundy's remarks were "appallingly racist," he's still giving the guy a pass:
Let me say this: Cliven Bundy may be an old racist, redneck coot. But that's not why he was targeted and treated like a serial killer. And, yes, even racist, redneck coots grazing their cattle on public land don't deserve to be surrounded by armed federal agents.

[...]

No one should apologize for defending Bundy. He was never held up as a paragon of virtue or for his intellectual prowess. His case was simply an illustration of what happens when the government is out of control and loses all perspective of right and wrong.
WND sure knows how to pick 'em, don't they?
Posted by Terry K. at 9:17 AM EDT