WND's Unruh Still Pushing Lazy Birther Boilerplate
Topic: WorldNetDaily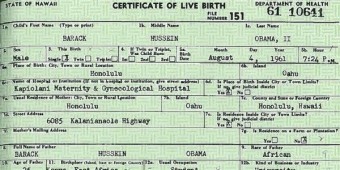 Bob Unruh's Jan. 2 WorldNetDaily article claiming that the existence of a biryher lawsuit in the Alabama Supreme Court is a "White House nightmare" is pretty much what we've come to expect from Unruh -- lazy, biased reporting.
There's all the boilerplate recitation of so-called evidence to prove that Barack Obama's birth certificate is fake without any mention that said evidence has been discredited.
There's the touting of Alabama Supreme Court Justice Roy Moore's views on Obama's eligibility as evidence that the court will rule against Obama, with no mention of the fact that it's a prejudicial opinion that should disqualify Moore from judging this case.
Then there's the hyperbolic "White House nightmare" headline, which we are pretty sure is no more true than Mike Zullo's claim that he has "universe-shattering" evidence about Obama.
Posted by Terry K. at 10:28 PM EST