MRC Brings Hate And Fear Of Drag Queens To Pride Month
Topic: Media Research Center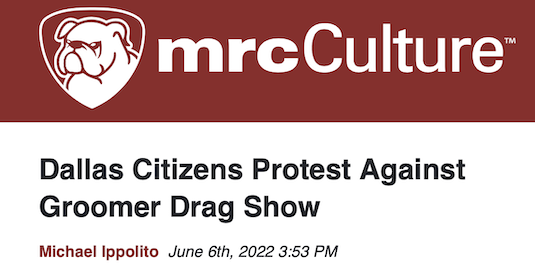 The Media Research Center has always despised drag queens, but because it marches in lockstep with right-wing narratives that have determined that they -- along with transgender people -- are the new Enemies of the People, the anti-drag queen hate at the MRC has ramped up considerably this year. In March, Matt Philbin freaked out that high school students held a drag show:
If it's any consolation Tucson, those drag queens putting on a show in your public high school might otherwise be hanging around libraries offering to read to preschoolers.

According to AZ Free News, Tucson High Magnet School (THMS) will be hosting "its first-ever drag show in early May." First-ever? (OMG! Welcome to the 21st Century, Tucson.)
Elise Ehrhard devoted an April post to attacking the "Gay, Inc.'" that lives totally in her imagination to justify a meltdown over a show about a drag show for children:
With disturbing regularity, massive entertainment conglomerates are targeting minors with the latest fads of Gay, Inc.

The latest abomination comes from the streaming service Discovery+, owned by Warner Bros. Discovery.

On Tuesday, Discovery+ tweeted Generation Drag, a new series about underage drag queens from executive producer Tyra Banks. The docuseries hits the streaming service on June 1 in honor of Pride Month.

The trailer is painful to watch as minors prepare for Dragutante, a drag show for kids held in Denver, Colorado. According to Dragutante's website, the show is for "Teen queens, kings & non-binary performers ages 8-18."

(Warning: The following trailer is disturbing.)
Yes, it would be "disturbing" and "painful" for Ehrhard to see people she desperately wants to spew hate at and have only a blog post to impotently express her rage. Shen the show premiered in June, Ehrhard's sputtering rage flared up again:
Many of the kids have been exposed to gender ideology and pride activity early and often. Most feel "different" and have struggled to make friends throughout their lives. All are vulnerable.

[...]

The whole series is heartbreaking. It's sad to watch sensitive, struggling or damaged youth be groomed as they fall further down the rainbow rabbit hole. Generation Drag is just the latest manifestation of the sort of child indoctrination Hollywood encourages and promotes.
Writtren like a bitter right-wing activist who desperately wants to indoctrinate people into hating non-heterosexual people as much as she does but, again, has only a right-wing blog post to do so.
Since June was Pride Month, that was code for the MRC to be as hateful to LGBT people as it could muster. Intern Michael Ippolito unleashed the nasty "grooming" smear in a June 6 post:
The left's obsession with grooming children is in full throttle during Pride month.

A Dallas bar named Mr. Misster held an event, "Drag the kids to pride," drag show on Saturday, June 4. This so-called "family-friendly" event saw drag performers dance and walk down the room aisle, even interacting with the crowd and taking dollar bills from little children. The event was advertised as "We have FIVE limited spots for young performers to take the stage solo, or with a queen of their choosing," promoting children to dance with half-naked men posing as women. During the event, protestors arrived to call out the open grooming of children.

Protestors from the group "Protect Texas Kids" condemned the depravity.

[...]

On cue, a local LGBT youth organization called the protestors "transphobic" for defending the innocence of children — no surprises from the groomers here.
Ippolito grew even more hateful two days later about another drag event:
The pride month drag show for children at a Dallas bar last weekend is rightly infamous. But out in Phoenix, the grooming got underway a whole day earlier.

According to AZ Free News, the Heard Museum hosted its first drag show, titled "Pride Night at the Heard," on Friday, June 3, sponsored by BlueCross BlueShield of Arizona with Arizona Public Service. As in Dallas; children got a front-row seat to this grotesque show. The museum checked several woke boxes by making its characters Native American drag queens. "Tomahawk Martini" and "K.Yasss Savage" accordingly strutted their stuff for the kiddies.

[...]

But perhaps the most atrocious aspect of the event is that the kids were then forced to listen to the poetry of the performers. A Drag Queen Twerk-Off and Poetry Slam may be the most heinous instance of child abuse ever reported.
In a June 10 post, Ippilito bizarrely smeared former "Wonder Woman" Lynda Carter as a "has-been" for not hating drag shows as much as he does:
Hollywood lefties hate Christians, and never pass up a chance to show it. Following a spate of incidents of children participating in drag shows, they're showing what they hold sacred.

Lynda Carter, whose claim to fame is playing Wonder Woman on TV in the 1970s, was on Twitter taking shots at Christians who don't think kids should hang around with drag queens.

Following the Dallas drag show for children's fiasco, many conservative commentators on Twitter showed their disdain for the event. Congressman Lauren Boebert tweeted, "Take your children to CHURCH, not drag bars." Carter responded with an asinine retweet.

[...]

You don't have to think like a superhero to have played one on TV.
Actually, Kevin Sorbo is the best example of that.
Catherine Salgado took up the drag-bashing baton in a June 13 post:
Google sponsored a disturbing LGBTQ+ "Pride" and drag event in Austin, Texas, which was billed as "family-friendly," according to the Rainbow on the Creek web page.

The "Rainbow on the Creek" event in Austin's Waterloo Park said on its official webpage that it is "a free family-friendly celebration that connects, educates, and celebrates Austin's lesbian, gay, bisexual, transgender, and queer (LGBTQIA+) community." The webpage also prominently announced that the event was "[s]ponsored by Google."

Performers at the event June 11 included multiple drag queens, including "Pelvis Wrestley" and "Roxxxy Andrews of RuPaul's Drag Race" as a featured performer, according to the event page. A self-described independent journalist claimed that scantily-clad drag performer "Heyonce The Vocalist" was caught on video performing suggestive dance moves at the event while children watched.
Salgado went on to huff, "Google also has a history of pandering to radical LGBTQ+ ideology and censoring those who criticize it. " If being LGBTQ or a drag queen is "ideology," does that mean the MRC's irrational hatred of them is an "ideology" too?
When that right-wing anti-LGBTQ hate was pointed out, the MRC freaked out about that too. Kevin Tober whined in a June 14 post:
On Tuesday's Deadline: White House on MSNBC, host Nicole Wallace once again proved that she will distort reality and twist facts to further her left-wing political agenda. This indisputable fact was on display when she gathered her panel of miscreants to discuss the troubling incident over the weekend where over thirty men linked to the white supremacist "Patriot Front" were arrested in an attempt to disrupt a "Pride Month" event.

Instead of chalking it up to a group of deranged racists intent on causing a violent incident, Wallace and Washington Post associate editor Jonathan Capehart suggested it is part of a trend of "anti-LGBTQ hate" from Republicans like Florida Republican Governor Ron DeSantis and others.

"AP writes this, last month a fundamentalist Idaho pastor told his small Boise congregation that gay, lesbian, and transgender people should be executed by the government. Another fundamentalist pastor in Texas gave similar sermons," Wallace said using an extreme example of hatred that nobody endorses.

She then wailed that "Heather Scott, an Idaho Republican lawmaker recently told an audience that drag queens and other LGBTQ supporters are waging, quote, 'a war of perversion against our children,' end quote." Wallace then bemoaned how "Florida Governor Ron DeSantis said he would consider sending child protective services to investigate parents who take their kids to drag shows."

The suggestion is that because DeSantis wants to protect children from sexually explicit "drag shows", a group of white supremacists and a fringe Idaho pastor want to kill LGBTQ people.
Tober never explained why this isn't true; he just whined that the linkage was made.
And we're not even halfway through Pride Month.
Posted by Terry K. at 9:46 PM EDT
Updated: Monday, August 15, 2022 1:36 AM EDT