CNS Hypes Violence Against Anti-Abortion Groups, Hide Decades Of Anti-Abortion Violence
Topic: CNSNews.com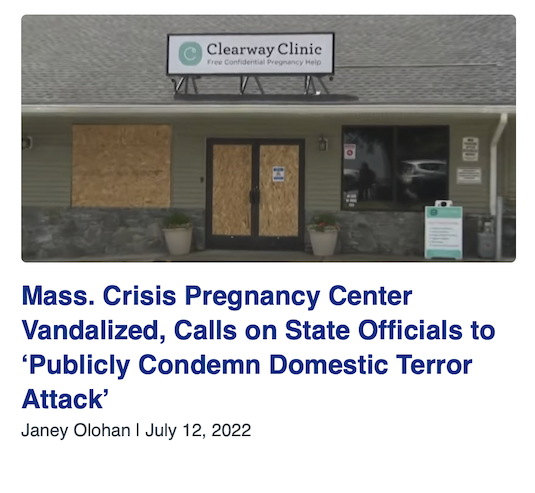 As loyal right-wing anti-abortion activists, CNSNews.com made sure to hype instances of violence against anti-abortion activists in the wake of the leak of a draft ruling overturning Roe v. Wade in May and then its actual overturning in June. Stephanie Samsel wrote in a June 21 article:
Pro-life individuals and groups have been targeted more than 40 times with violence, vandalism, and intimidation, since the Supreme Court draft opinion to overturn Roe v. Wade leaked, according to a new report.

The 22-page report, Pro-Abortion Vandalism, Violence & Intrruptions of Worship, released by Susan B. Anthony (SBA) Pro-Life America lists over 40 incidents of attacks on peaceful pro-life groups, including churches and crisis pregnancy centers, since May 3.

[...]

In response to ongoing threats against pro-life groups across the country, SBA Pro-Life America President Marjorie Dannenfelser issued a statement condemning "inherent violence" against "community heroes."
A July 12 article by Melanie Arter hyped how "The director of a pregnancy care center in Sacramento, Calif., said Tuesday that her she has had to spend $150,000 in 'valuable resources' to protect themselves from violent assaults and vandalism, including someone armed with a machete, in the wake of the Supreme Court's decision to overturn Roe v. Wade":
"Just last week, as the exhibit shows, a man approached our care center with an armed machete. We have been forced to hire 24-hour on site security. We've had to reinforce doors and bullet-proof our walls. We've had to paint our building with anti-graffiti coating. We've added cameras, armed our staff with pepper spray and stopped running our mobile clinic, because of threats of violence," she said.

"We have been forced to expend valuable resources – resources for women of up to $150,000 just to protect ourselves. Why? Because we offer free care to women. What we do though is worth the risk. Every community needs a place for women facing unplanned pregnancies who are seeking dependable, medical resources in a safe, caring environment during one of the most difficult times of their lives," Matzke said.
The same day, intern Janey Olohan wrote:
Last Thursday morning, two women's pregnancy counseling clinics in Worcester, Massachusetts were vandalized, and the head of one of them is calling the attack on her center "domestic terrorism."

Both Clearway Center and the nearby Problem Pregnancy clinic were hit. Glass doors and windows were smashed in, paint was splattered, and the entrances to the clinics were spray-painted in black with the words, "Jane's Revenge," the name of a radical pro-abortion group, which has yet to publicly claim responsibility for the attacks.

[...]

Violence against pro-life groups and churches has surged since the Supreme Court's overturning of Roe v. Wade, which had established a national right to abortion. Since the court's decision was leaked in May, more than two hundred threats have been uncovered by the FBI. Susan B. Anthony Pro-Life America has also listed at least forty-five violent assaults on pro-life-affiliated groups.
None of these articles, however, mentioned the anti-abortion movement has a 50-year legacy of violence and murder, which includes vandalism and arson of clinics that perform abortions. CNS has long turned a blind eye to anti-abortion violence; when abortion provider George Tiller was murdered by an anti-abortion activist, CNS pretended that he was an outlier and censored reports that prominent anti-abortion activist Randall Terry cheered Tiller's death.
That's relevant history when writing about protester violence over the issue of abortion. But CNS chose to censor it instead.
Posted by Terry K. at 1:11 PM EDT