MRC Endorses Keeping Women Under Surveillance Lest They Cross State Lines To Get An Abortion
Topic: Media Research Center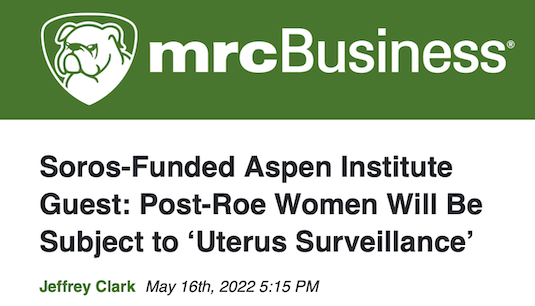 For all the Media Research Center's wailing (read: pushing a right-wing narrative) that the Biden administration's planned Disinformation Governance Board would be a "Ministry of Truth," it has no problem witih Big Brother-style tactics when it comes to enforcing right-wing orthodoxy on abortion -- to the point that it endorsed the idea of monitoring and tracking women lest they have an abortion. Tierin-Rose Mandelburg served up her Big Brother take in a May 12 post:
Aspen Institute wants less digital surveillance. Why? So that women can travel to abort their babies without anyone knowing.

In a May 11 Zoom lecture with Aspen Institute, speakers emphasized the importance of digital privacy in order to protect women who still want to kill their babies in areas where abortion is outlawed. The Aspen Institute speakers essentially pushed for less surveillance so that women won't get in trouble when they commit the crime of abortion.

With the potential overturn of Roe V. Wade, abortion "rights" will no longer be set at the federal level but instead, decided by individual states. This is a big step for the pro-life movement as many red states will outlaw abortion — as they should.

Wafa Ben-Hassine from the Omidyar Network stated "The situation with the possibility of overturning Roe V. Wade just kind of demonstrates and highlights why it's so important for us to move our attention back to the role of data brokers as well as the amount of consent that we have as users." Data brokers are essentially the middle-men. Applications receive data from users, data brokers receive that data and then they sell and distribute it. Ben-Hassine is advocating for more privacy on our cell phones so that women can travel to get abortions even when it becomes illegal.

[...]

"This is all about users, about people, not giving consent to something and then having the long term, slippery slope implications of what that means," Ben-Hassine claimed. Yeah, I bet the babies being killed from abortion aren't consenting to their own slaughter but who cares about them anyway, right? My body, my choice?
Mandelburg didn't explain exactly why the right to privacy doesn't exist for women if they are thinking of having an abortion and traveling to a state where it's legal to do it. Instead she went on to whine that participant Wen. Ron Wyden "coined the phrase 'uterus surveillance' which he, though he has no uterus, was highly concerned about". Of course, "uterus surveillance" is something Mandelburg very much wants.
Mandelburg then upped her heated rhetoric by likening women who have abortions to serial killers:
During the meeting I submitted a question. I asked if these limited surveillance expectations should apply to other criminals too or just criminals of abortion. For example, if data is collected that pinpoints a serial killer to a specific crime, should that data be used against them or not? My question was not addressed in the Zoom nor in the email I sent Aspen afterward. Go figure.
Of course, the difference is that the legality of serial killing does not change by state. It seems that Mandelburg is so bloodthirsty against abortion that she wants to see women imprisoned and executed fror having one.
Mandelburg concluded by reiterating her call for a Big Brother state and restating that pregnant women have no right to privacy or freedom of movement:
Should Americans have the right to privacy? Yes, but not when that privacy comes at the expense of innocent lives being aborted. Aspen Institute and every speaker they had on today advocated for more data privacy simply so that women can get away with the crime that is abortion. Talk about empowerment, am I right?
Mandelburg seems to be missing the point that her desired outcome of regulating abortion on the state level means that if abortion is legal in a certain state, it's not a crime for a woman to have one there, nor is it a crime for a woman to travel to that state to have one. Mandelburg is effectively endorsing a massive police state against women, and she offers no guidance on how that would work without violating the principles of freedom right-wingers like her purport to uphold.
The MRC freaked out about this discussion so much that it devoted a second post to it, from Jeffrey Clark on May 16. Clark managed to avoid saying the quiet part out loud like Mandelburg did, instead focusing on good old-fashioned George Soros conspiracy-mongering:
A shadowy organization funded with millions from radical leftist billionaire George Soros is now pushing for less digital surveillance and a freer world — for abortion, that is.

The Aspen Institute held a May 11 virtual roundtable to strategize how women can have secret abortions. The meeting followed soon after a Supreme Court leak appeared to signal the end of the infamous pro-abortion Roe v. Wade (1973) decision.

The Aspen Institute hosted speakers from a variety of powerful leftist groups, including the Omidyar Network and the Ford Foundation. One guest, Sen. Ron Wyden (D-Ore.) attacked pro-life advocates as "extremists," and called data tracking of women "uterus surveillance."

But behind the scenes, two organizations within Soros's Open Society network previously funneled massive amounts of cash into the Aspen Institute, totaling at least $3,039,780 between 2003 and 2020.

[...]

This is not the first time that Soros has pushed radical pro-abortion groups. The leftist mogul gave at least $25,274,455 to 11 radical abortion groups like the Planned Parenthood Action Fund between 2016 and 2020. The Kaiser Family Foundation estimated in 2019 that the median cost for an abortion at 10 weeks' gestation was $500. That is, Soros' funding of 11 radical pro-abortion groups would be enough to pay for 50,548 abortions.
Clark then huffed that "Wyden absurdly claimed that overturning Roe is a "truly draconian infringement on women's freedom and privacy" as he painted a dystopian world for women seeking abortions" and mocked one speaker for pointing out that states are considering criminalizing crossing state lines to get an abortion -- seemingly oblivious to the fact that just four days earlier, his co-worker endorsed that "absurd" draconian and dystopian monitoring of women to prevent them from engaging in freedom of movement in corssing state lines.
Posted by Terry K. at 3:36 PM EDT
Updated: Wednesday, September 21, 2022 8:11 PM EDT