MRC Hypes Chicago Crime To Distract From Gun Massacre In Chicago Suburb
Topic: Media Research Center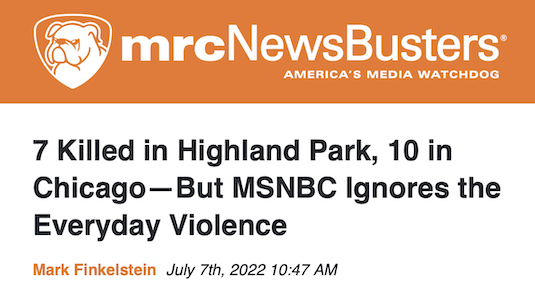 When right-wingers bring up crime in Chicago, it's usually to advance a narrative or deflect from something. The Media Research Center's "news" division, CNSNews.com, loves to do it, mostly for the former. The MRC itself did it for the latter -- specifically, to distract from and minimize the July 4 gun massacre in the Chicago suburb of Highland Park, which it has already been doing. Mark Finkelstein showed how it's done in a July 7 post:
Over the July 4th weekend:

Seven people were shot to death in Highland Park, a Chicago suburb.
Ten people were shot to death in Chicago .

One is rare, and the other is routine. But some liberal outlets are noticing the attention gap.

The Washington Post ran a front-page story on Thursday that lamented "There are no crowdsourced charity drives raising millions for victims' families in Chicago, where the holiday weekend death toll reached at least 10 with 62 injured — numbers that exceed the toll in Monday's mass shooting at a July 4th parade in nearby Highland Park, Ill. In that affluent lakeside suburb, the violence was an anomaly. Here, it is a grimly regular occurrence."

But on her MSNBC show on Tuesday, Nicolle Wallace focused exclusively on the seven Highland Park shooting deaths. Not a word about the 10 shooting deaths in Chicago. Note that in 2021, there were 3,561 shooting incidents in Chicago, and 797 homicides.
Finkelstein went on to complain that Wallace and her guest Peter Strzok, the Trump-hating, ex-FBI agent, focused on the race of the Highland Park suspect," while there was "no mention of the age or race of the Chicago shooters. Wonder why?" Wonder why Finkelstein is so sensitive about people pointing out the fact that the perpetrators of recent gun massacres are young white men.
Later that day, Curtis Houck highlighted a Washington Post story that followed the MRC's Chicago distraction narrative:
In a front page and above-the-fold story for Thursday's print edition, The Washington Post discovered a reality that dozens of people are shot and killed every week and weekend in Chicago, Illinois, but there's barely any national attention given to the plight of Chicagoans in contrast to the equally horrifying mass shootings in suburbs and other more economically prosperous areas.

Reporter Robert Klemko penned the story under the print headline "Toll on South Side eclipsed suburb's, but drew no furor" (and "With little outcry, Chicago's bloody weekend eclipsed Highland Park toll" online) that gave away the media game of fixating on certain acts of gun violence, but not others.
Of course, the Post wasn't using the Chicago ahootings to distract from the Highland Park massacre like Houck is.
On July 10, Kevin Tober similarly praised a non-right-wing outlet for pushing its narrative:
On CNN's State of the Union, host Jake Tapper confronted Illinois Governor J.B. Pritzker on a common theme that even casual observers of leftist politicians and media have noticed. That is they always focus on tragic one time incidents like mass shootings, yet ignore the daily shootings in Chicago which cause more deaths on a weekly basis than mass shootings.

After discussing the terrible mass shooting in Highland Park on Independence Day with Pritzker, Tapper correctly noted that "the fourth of July weekend death toll in Chicago, as you know, surpassed the Highland Park shooting."

[...]

The fact of the matter is the American people are paying more attention to the Highland Park shooting not because of the weapon used but because the media focuses on mass shootings more than the deadly shootings that occur every weekend in Democrat run cities like Chicago, Los Angeles or New York City.
All these incidents are tragic and should be given equal treatment.
Actually, Tober doesn't want any attention at all given to the Highland Park massacre because it outlines the destruction caused the conservative movement's all-guns-everywhere-no-questions-asked policy and its glorification of gun culture that emboldens disaffected young men.
The MRC only cares about Chicago violence when it serves its purposes to do so -- and the proof of that is that it devoted only one more article related to the Highland Park massacre, a July 10 item by Finkelstein complaining that "the media's favorite youthful gun-grabber David Hogg" argued that the massacre's perpetrator was a "white nationalist" and brought up "the trauma and PTSD that black and brown communities have from experiencing a disproportionate about of gun violence" and historical issues like redllining. Rather than try to prove Hogg wrong, Finkelstein sneered, "Why do liberals always want to have 'conversations around' issues? Anyhow, bonus woke points to Hogg for working redlining into his spiel."
Of course, conservataives like Finkelstein and his fellow MRC writers want no conversations at all about gun violence lest they lose on the facts.
Posted by Terry K. at 9:57 PM EDT