Correction: WND Did Report Dropping Of Charges Against Colbert Staffers
Topic: WorldNetDaily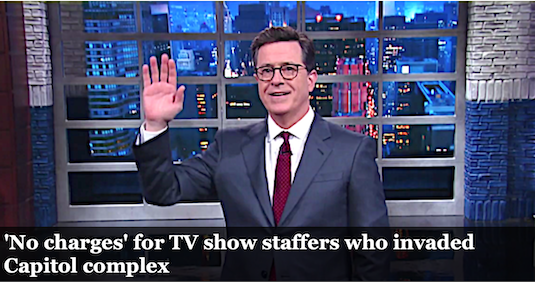 A correction: We had previously written that WorldNetDaily hyped the arrest of "The Late Show With Stephen Colbert" staffers inside the Capitol complex but censored the charges being dropped later. Turns out WND did -- but that story was, for some reason, buried in thte search results on WND, which for some reason does not list stories chronologically. Bob Unruh reported the exoneration in a July 19 article -- but still managed to whine that Capitol riot insurrectionists are still in jail for actual crimes:
Hundreds of Americans have been accused of illegally invading the U.S. Capitol on Jan. 6, 2021, as part of a protest over the known irregularities of the 2020 presidential election, and hundreds now are facing charges. Many of them still are in jail.

But authorities in Washington say staff members for a television show who were found to be in the Capitol complex without permission, and were accused of "unlawful entry," will face no punishment.

The New York Daily News reported that nine staff members for "The Late Show with Stephen Colbert" – facing accusations of "unlawful entry" – will not be charged.

The staff members had been arrested last month but now are being given a pass on their offense, according to officials with the Capitol Police and the U.S. attorney's office in Washington.
Unruh did go on to grudginging admit that the show staffers were "being given a pass" because they did nothing wrong -- they were properly let into the building but did not have a staff escort with them at all times, as is apparently required. but after doing that, Unruh returned to complaining about the insurrectionists who committed actual, documented crimes remaining in jail and hyping a letter written by outraged Republicans on the subject:
WND reported when the situation caught the attention of Republican members of Congress, who have insisted on being given all the reports, witness statements, surveillance footage and photographs regarding the incursion.

"These individuals were arrested and charged with unlawful entry after causing 'disturbances' at the offices of several Republican members, including 'banging' on their office doors," a letter to Capitol Police from Reps. Jim Jordan, R-Ohio, and Rodney Davis, R-Ill., said.

[...]

"Much has been made lately about unauthorized access to House office buildings, including debunked Democrat allegations that Republican members led so-called reconnaissance tours of the Capitol Complex in advance of January 6," the letter said.

"Unlike the Democrat allegations of reconnaissance tours, however, the events on June 16 actually resulted in arrests for unlawful entry," the Republicans wrote.
Yes, Unruh still found a way to push WND's right-wing agenda even when the original story turned out to be a nothingburger.
Posted by Terry K. at 5:54 PM EDT