The MRC's Loud, Lame War On NewsGuard Slogs Along
Topic: Media Research Center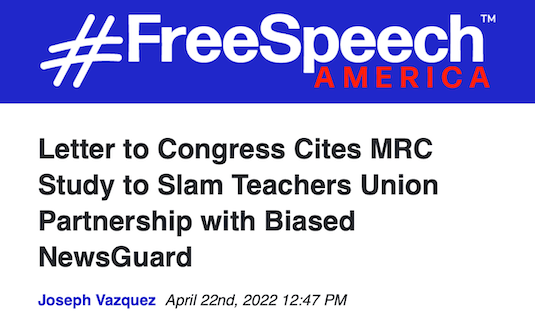 It's been a while since we checked in on the Media Research Center's loud and lame war against NewsGuard for committing the offense of documenting how conservative websites are less credible than non-conservative ones. Catherine Salgado nonsensically cheered NewsGuard for proving it wasn't biased -- despite the MRC's narrative to the contrary -- in an April 28 post:
Leftist internet traffic cop NewsGuard surprisingly put the left-wing Daily Beast in the doghouse by knocking its rating down 30.5 points for false reporting.

[...]

The service downgraded The Daily Beast in two categories, "Gathers and presents information responsibly" and "Regularly corrects or clarifies errors." The NewsGuard "nutrition label" for The Daily Beast claims that the site "is often accurate and well-sourced," but presents several examples deemed exceptions. Now, NewsGuard discredits The Daily Beast 's reporting on acquitted Kenosha shooter Kyle Rittenhouse, on Florida's mislabeled "Don't Say Gay" bill and on the New York Post exposé of Hunter Biden. The ratings firm contacted The Daily Beast regarding the false reporting in April 2022, but had not received a response or seen a correction of the articles on the site, according to the company's nutrition label for The Daily Beast.
By that standard, the MRC should be downgraded for mislabeling that Florida bill as an "anti-grooming" law. BBut being a greedy right-wing activist, Salgado demanded more:
The Daily Beast's. MRC Free Speech America previously reported on how multiple leftist outlets that tried to quash the Hunter Biden laptop story still have perfect NewsGuard scores, even after The New York Times verified the story. Even more egregious, NewsGuard co-CEO Steven Brill himself tried to discredit the story, calling it a "hoax." Does NewsGuard now have to downgrade itself? Outlets including Axios, BuzzFeed News, USA Today and The Washington Post still have 100/100 NewsGuard ratings, despite their inaccurate reporting on the Hunter Biden scandals.
As we pointed out the last time the MRC whined about this, there was plenty of reason to doubt the laptop story given its October surprise nature and the fact that it was advanced by pro-Trump pararisans like Rudy Giuliani in the midst of a heated presidential campaign; further, the New York Post offered no independent corroboration of its story, making it easy to dismiss as a political stunt.
The MRC also continued to try and interfere with NewsGuard's business affairs by hyping attacks it inspired on other companies working with NewsGuard:
An April 22 post by Joseph Vazquez gushed that "Nineteen organizations demanded Congress investigate the Orwellian partnership between leftist website ratings firm NewsGuard and the anti-parent American Federation of Teachers." Vazquez described none of those organizations as conservative -- as that would have given away the partisan nature of this attack -- but he was quite happy to point out that the demand referenced the MRC's previous attacks on NewsGuard.
An April 29 post by Salgado similarly gushed that "Tucker Carlson slammed the Pentagon's $750,000 contract with leftist ratings firm NewsGuard on his Fox News show," huffing that "NewsGuard is not to be trusted." She also let Carlson rant that "NewsGuard is currently preparing a black list of sites that contradict the national security state's talking points on Ukraine and Russia" without mentioning the fact that Carlson has effectively been a pro-Russia propagandist.
Salgado parroted yet another attack on the NewsGuard-AFT deal (using MRC talking points, of course) in a June 3 post citing a letter by three right-wing members of Congress condemning the deal, adding that "The letters ended with a list of questions seeking transparency around the AFT-NewsGuard partnership and the two organizations' business practices."
Vazquez dragged NewsGuard into its war on Washington Post reporter Taylor Lorenz for reporting on right-wingers in a June 8 post complaining that the Post "still enjoys a perfect score by leftist news ratings firm NewsGuard" despite a minor kerfuffle over whether someone was actually sought for comment in a Lorenz story -- again, not about the story's contents regarding how YouTubers covered the Johnny Depp-Amber Heard. Vazquez called Lorenz's article a "smear piece" without identifying what, exactly, the "smear" was.
Meanwhile, Salgado groused in a June 24 post:
USA Today recently removed over 20 articles after publication leadership found one of their reporters fabricating sources. Yet ratings firm NewsGuard still gives USA Today a stunning 100/100 score for "credibility," even after acknowledging the scandal.

NewsGuard's "nutrition label" for USA Today still gives the outlet a perfect "credibility" score, 100/100. This means that NewsGuard scored USA Today perfectly on categories including "Regularly corrects or clarifies errors," "Gathers and presents information responsibly," and "Does not repeatedly publish false content." This comes even after USA Today became embroiled in a scandal after former reporter Gabriela Miranda fabricated sources.

USA Today removed 23 stories from its site after an audit of Miranda's work revealed multiple discrepancies. Miranda resigned from her position. NewsGuard, which touts itself as the online "credibility" arbiter, has not adjusted USA Today's 100-percent score, despite having added the information about the source fabrication scandal to its nutrition label for the outlet.

How does NewsGuard justify maintaining USA Today's score while openly acknowledging the outlet's self-identified massive fail?
Perhaps because it identified the problem and corrected the situation while explaining to readers what happened. By contrast, the MRC still has yet to make any sort of public statement about the Brent Bozell ghostwriting scandal or how one of its bloggers used white nationalist links to flesh out his posts.
And that's why the MRC is lashing out at NewsGuard -- because it wants its fellow right-wingers to get away with the same kind of shoddy journalism it practices, and it can't handle being held up to the same standard it demands non-right-wing operations follow.
Posted by Terry K. at 9:20 AM EDT
Updated: Friday, July 8, 2022 11:23 AM EDT