MRC Blames Biden For High Gas Prices -- But Won't Provide Proof
Topic: Media Research Center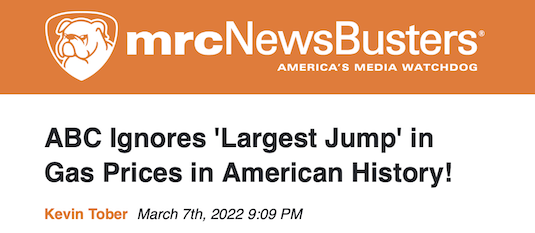 The Media Research Center has been working for months to push the narrative that President Biden is solely to blame for high gas prices -- but it has offered little evidence to back up the claim. The MRC was setting up that narrative as soon as late February after Russia's invasion of Ukraine; a Feb. 28 post by Jeffrey Clark unritically quoted highly biased Fox Business host Stuart Varney playing the Biden blame game:
But Varney wasn't finished. He went on to argue that Biden, not a distant war in Ukraine, was the original driver of high gas prices. "You've got to go back to the very first day of the Biden administration," he said. "When they canceled the Keystone pipeline and then cut back on the drilling for oil and natural gas and restricted our energy independence, that gave Putin leverage."

Varney predicted the devastating effects Biden's policy blunders will have on regular Americans.
As we've documented, non-biased energy experts agree canceling the Keystone XL pipeline has no effect on current gas prices because 1) the pipeline wouldn't be ready now and 2) much of the pipeline's products would be designated for export.
On March 2, Clark similarly cheered how "CNBC host Joe Kernen embarrassed President Joe Biden's environmentalist cheerleaders who fought to keep oil in the ground because of so-called "climate change" while blaming former President Donald Trump for high gas prices. It's as if leftists want to have their cake and eat it too." The next day, Kevin Tober touted an MSNBC host calling for resuming the Keystone pipeline while censoring the fact that it would not lower gas prices.
Joseph Vazquez spent a March 7 post being angry at CNN for reporting on a "meaningless" drop in gas prices late last year, declaring that "the disturbing news on energy prices skyrocketing makes CNN's pro-Biden spin on the matter look ridiculous." Of course, Vazquez looked ridiculous by pretending there wasn't a Russian invasion of Ukraine that made gas prices skyrocket.
A post the same day from Scott Whitlock noted a news report on high gas prices then complained there was "no mention of the Biden administration's war on energy independence," going on to hype that "The Media Research Center last year produced a documentary on energy independence and how the Biden administration ended the Keystone Pipeline." The MRC's so-called documentary is a shoddy, biased piece of work, and besides, since that oil would be coming from Canada and much of it would have been designated for export, it would have no efffec ton U.S. "energy independence."
Another March 7 post, by Kevin Tober, complained that Biden was claiming to do "everything except ramping up domestic oil production in the United States so we wouldn't need to rely on other countries like Russia for energy." In fact, U.S. oil production is already ramping up.
A March 8 post by Kyle Drennen lashed out at CBS for accurately reporting that Biden has not impeded oil production -- or, in his highly biased an inaccurate words, "CBS went to work spewing White House propaganda that the administration's left-wing environmental agenda was 'not hurting oil production in this country.'" Drennen offered no evidence that any Biden policy had any direct effect on oil production, instead ranting: "Real journalists would be questioning the administration's radical environmental policies and pressing the White House on why increasing U.S. domestic energy production was being treated as a matter of national security. Instead, the stenographers at CBS and NBC just repeat what they're told."
Alex Christy similarly ranted in another March 8 post: "Before President Biden gave a speech on Tuesday announcing the ban of Russian oil imports, the cast of At This Hour on CNN warned that gas prices will go up and that Biden has no good options to fix that problem -- as if his own policies have no impact on the situation." He too failed to offer any actual evidence, vaguely whining only that CNN "omitted any mention of Biden's record."
A March 9 post by Nicholas Fondacaro whined that a CNN segment "compared oil production from Trump's FIRST YEAR in office (2017) to the first couple of months of 2022" and "conveniently skipped over how Biden reduced our domestic oil production in 2021." Fondacaro did not explain how, exactly, "Biden reduced our domestic oil production in 2021," falsely suggesting it was some kind of shady machination and not, you know, that was a raging pandemic.
Christy used a March 10 post to complain that an MSNBC commentator told the truth about Republican anti-Biden narratives:
For Alcindor, this was "a smart point" because even though both parties agree, "there is really this political risk…Senator Chris Murphy, he has said, the moment that he be -- the moment that gas prices start to surge even more, he believes that Republicans are going to be using this against the president."

Trying to prove Murphy right, Alcindor cited House Minority Leader Kevin McCarthy (R-CA), "who has said that while President Biden is trying to blame Russia and world events for the historic gas prices this is really, he said, bad policies."

Of course, McCarthy is correct.

Ruhle and Alcindor are too, but Christy will never admit that -- his job is to peddle McCarthy's narratives, not tell the truth.
Posted by Terry K. at 10:28 PM EDT