Another CNS Attack On Pelosi Fails For Citing Wrong Bible
Topic: CNSNews.com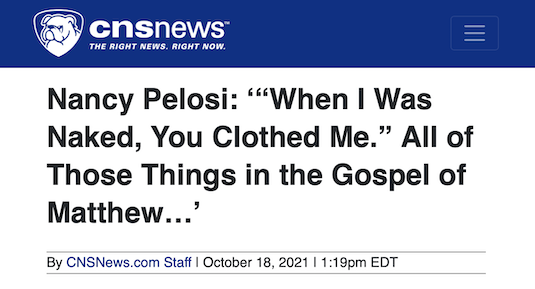 Remember that time we caught CNSNews.com sneering at Nancy Pelosi for quoting the Bible but linking to a version of the Bible that Catholics like Pelosi don't use (something the uber-Catholics who run CNS ought to know)? Well, we found another example. From an anonymously written Oct. 18 article:
House Speaker Nancy Pelosi (D.-Calif.) quoted from the Parable of the Wise and Foolish Virgins from the Gospel of Matthew at a press event focused on public housing that she held in San Francisco on Friday with San Francisco Mayor London Breed.

"Madam Mayor, it's always a joy to be with you while we're talking about low-income housing, affordable housing, public housing and the rest, and to hear you speak from your own personal experience about it," Pelosi said.

"'When I was hungry, you fed me. When I was homeless, you gave me shelter. When I was naked, you clothed me.' All of those things in the Gospel of Matthew, the Mayor brings to the experience," Pelosi said.

"Madam Mayor, thank you for your tremendous leadership and how that experience has benefited so many people," she said.
But the article's links on the "Parable of the Wise and Foolish Virgins" and the "Gospel of Matthew" go to an online edition of the New King James Version of the Bible. As we documented, the Catholic Church does not use the King James Version because it was commissioned for the Church of England and it omits certain books from the Old Testament that Catholics recognize but Protestants don't.
Again, this is all malicious partisan pettiness on CNS' part. But you'd think that it would know better than to try and own Pelosi with a Bible that Catholics don't use.
Posted by Terry K. at 3:41 PM EST