WND Highlights Question Of Whether Trump Would Leave Office, Forgets It Fretted Over Whether Obama Would Leave
Topic: WorldNetDaily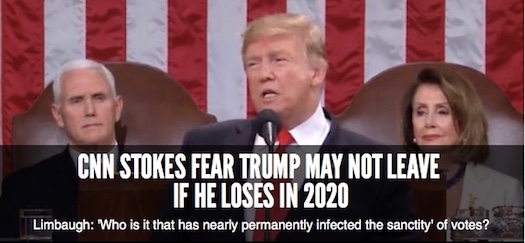 WorldNetDaily complains in a May 6 article:
Do the national media and Democrats think President Trump won't leave office if he loses a close election in 2020?

At least one voice at CNN is joining the chorus of concern stoked by House Speaker Nancy Pelosi.

The network's Chris Cillizza, a former MSNBC and Washington Post contributor, fretted on Twitter that Pelosi has said the 2020 Democratic nominee must win the presidential race emphatically or else Trump might not "concede."

[...]

Pelosi's concern that Trump might refuse to leave office if he loses followed on Hillary Clinton's newest complaint about having an election "stolen."
Of course, one person on TV is not "the national media." And WND seems to have forgotten that it raised the very same question about President Obama.
In a March 2015 column, WND editor Joseph Farah ranted that Obama "respects neither the law nor the American tradition of peaceful changes of power" and, thus, might refuse to leave the White House when his term ends. Farah added: "Again, do I think Obama will leave office in January 2017? Yes I do. But, with a track record like this – and, actually much worse – should we simply take it for granted?"
In a follow-up column a few days later, Farah argued that the Obamas were "are living it up on your dime" through federally paid vacations --which ignores the fact that President Bush had taken three times as much vacation time as Obama did -- and that he would be loath to give that up:
No doubt Obama will be in a position to make lots of money after the presidency, whenever he decides to end it. But it's hard to imagine him enjoying six all-expense-paid vacations every year at his venue of choice. Not too many people live that kind of life – even with the "endowments" recent past presidents often get from their oil baron friends in the Middle East.

Do you think Obama's about to give that up and move out of the White House to make room for Hillary Clinton?

I don't know. The more I think about it, the less convinced I am.
Meanwhile, a July 2015 article by Cheryl Chumley claimed that Obama's assertion that he could likely win a third term in office "tapped into previous pundit discussions and constituent fears he might not want to leave the White House when his time was up – and in that case, who would actually stop him from staying?" But Chumley also quoted Obama saying that he couldn't run again because "the law is the law, and no one person is above the law, not even the president."
Going even further back, a 2014 column by Kathy Shaidle highlighted how Rush Limbaugh "has expressed his fear that President Obama may not step down when his term ends in 2017" because of something related to Obamacare.
And in an August 2016 column, Farah speculated that Obama would not leave office if Donald Trump won the presidency because he had criticized Trump:
Given what Obama has said about Trump, would he not have an obligation to prevent Trump from assuming office? And what would that mean to the peaceful process America has enjoyed for more than two centuries of transitions of power?

These are questions Americans have never before been confronted with in American history.

Should he not be asked pointedly about the implications of his stunning statements?

Should he not express exactly what his intentions are beforehand rather than to leave any doubt in the minds of the people?

If no one else will ask the question, I will: "Mr. President, if Donald Trump wins the election to become the next president of the United States, will you willingly and peacefully leave office and cooperate fully with the transition of power the way all of your predecessors in the White House have done in the past?"

It's a simple question that needs to be asked and answered – given Obama's highly inflammatory rhetoric over the last week.

There should be no doubt in the minds of the American people. There should be no veiled threats hanging over the heads of the citizenry as we prepare for the next election. It's time for Obama to lay his cards on the table.

Will America follow the rule of law and the will of the people after the November election no matter what Obama might think about his successor?
Somehow we doubt thagt WND will apply this very same test to Trump, who has criticized most of the Democratic presidential candidates and will certainly be much more hostile to the eventual nominee that Obama ever was to Trump.
Posted by Terry K. at 2:19 AM EDT