MRC Parrots Trump White House In Downplaying Russian Election Interference
Topic: Media Research Center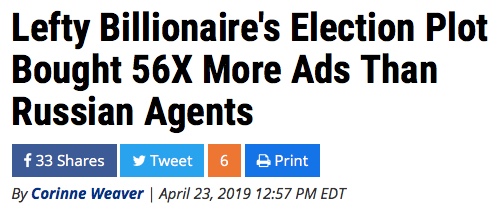 The Media Research Center's undeniable mission is to create and perpetuate narratives that benefit President Trump. So it should be no surpise that on the very same day that Trump White House senior adviser Jared Kushner downplayed the impact of Russian interference in the 2016 presidential election -- in which federal investigators agreed that Russia worked to get Trump elected -- by claiming it was just "a couple Facebook ads," the MRC was parroting that very same argument, albeit in a slightly different way. Corinne Weaver writes in an April 23 post:
Election manipulation is something the media have typically associated with Russians. But one liberal billionaire funnelled 56 times more money into manipulating content to win elections than the Russians.

News for Democracy, a political organization backed by liberal billionaire and Microsoft board member Reid Hoffman, spent $5.6 million on Facebook ads in 2018. According to an April 23 report released by Tech for Campaigns, News for Democracy was one of the top 10 spenders on Facebook ads — outranking Planned Parenthood and the Republican Senatorial Committee. By comparison, Russia's Internet Research Agency (IRA) only spent $100,000 on Facebook ads.
Of course, the big difference is that the "liberal billionare" is American and working within U.S. election laws, and Russiais a foreign country trying to influence another country's election to its own benefit.
Posted by Terry K. at 9:15 PM EDT