WND's Kupelian: Either You Love God, Or You're A Man-Hating Marxist
Topic: WorldNetDaily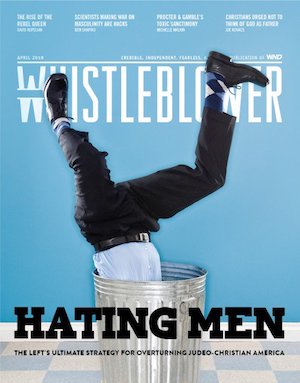 The theme of this month's edition of WorldNetDaily's sparsely read Whistleblower magazine is "HATING MEN," and David Kupelian has posted his lead essay. After cherry-picking a few examples of male-bashing feminists, he ponders: "Question: How can intelligent, educated adults in 2019 America, where women are freer and better off than in any country or at any time in history, possibly be consumed with such unbridled hatred for an entire group that comprises fully half of the population? Especially when that half of the population has fought all of our wars, cleared all of our wilderness, invented everything, constructed our civilization, and protected and sacrificed itself for women and children from day one."
Kupelian's answer: Hating men is the same thing as hating God, because if you're not of the proper Judeo-Christian mindset, you're a Marxist. No, really:
For Western nations rapidly transitioning into post-Christian societies, two opposite worldviews now openly war with each other. One is the traditional Judeo-Christian, biblical, patriarchal "prism" and the other is based on Marxist notions of radical equality.

The Bible – and the historical, cultural, moral and spiritual worldview it illuminates and champions – is utterly patriarchal. God is neither our Mother nor a genderless cosmic being, but our heavenly Father. God the Father created the first man, Adam; then out of Adam He created Eve. Almost all the Old Testament prophets were men. Jesus Christ was a man, as were all His disciples and apostles. Down through the centuries, the vast majority of Jewish and Christian religious leaders, from popes and priests to evangelists, rabbis and ministers, have been men. So, for that matter, have the vast majority of national political leaders.

Why? Is it, as alleged by those sworn to "tear down the patriarchy," simply because men take advantage of their greater size, strength and aggressiveness to oppress women by bullying them into submission? Or is there a higher, indeed transcendent, principle – a divine order – evident in the overwhelmingly dominant leadership role men have exercised throughout human history?

In the Judeo-Christian worldview, just as God causes electrons to orbit around atomic nuclei and planets to orbit around suns so everything doesn't crash into everything else and quickly descend into smoldering chaos, He also ordains a certain order to life on earth – to prevent much the same chaotic outcome.

[...]

Competing against this traditional worldview, which for centuries admirably served as the basis for a stable and prosperous America, is today's essentially godless cult of radical equality. Seen through this prism, every race, religion, ideology, culture, ethical system and sexual/gender orientation, no matter how bizarre, immoral or insane, is as valid and worthwhile as every other (well, except for Christianity, conservatives, Republicans, men and white people in general). At the core of this worldview, there is no God, no divine moral law, no higher purpose of life binding us all together; there is only power and glory for the individual and tribe. And since there's no ultimate meaning to anything, there can be no real differences between the sexes, other than those we ourselves decree.

Thus, everything Americans of previous generations thought was solid and real, even the most basic biology, is now considered merely the result of "social constructs" overseen by society's oppressor class. So, for example, whether there are two genders as we once believed, or 24 or 48 (Facebook currently offers 71 gender choices, but a more recent online list includes 112), we are living in a time when every person is encouraged to pursue his, her or zir own "truth."

But in reality, without the Living God overshadowing people in their relationships with one another, it doesn't ultimately matter whether we have a patriarchal culture (Muslim culture is oppressively and abusively "patriarchal"), or a revolutionary matriarchy with a radical feminist queen at the top, or some dreamed-up totalitarian nightmare regime of enforced radical equality. The result will be the same: ever-evolving anxiety, conflict, loss of freedom, madness, violence and slavery. One of our founding fathers, William Penn, put it perfectly: "If man is not governed by God, he will be ruled by tyrants."

Truth is, what we're really beholding in today's growing condemnation of men – not of the Harvey Weinsteins of the world, but disdain toward men in general – is primal rage and rebellion against God and the divine laws, order and values He so wisely has provided for our eternal benefit.
That framing is, of course, cartoonish. Kupelian must describe those he despises in the most radical, denigrating terms he can think of as part of a mysterious, monolithic "left" -- while depicting his own right-wing views as being the only possible correct viewpoint. It's that stark binary viewpoint that has doomed WND, and his insistence on sticking with it despite flailing to keep his job alive shows he has learned nothing from the past year and a half of trying to keep WND alive (or from his heart attack).
Posted by Terry K. at 3:39 PM EDT