CNS In Full Damage-Control Mode Over Sessions' Russian Contacts
Topic: CNSNews.com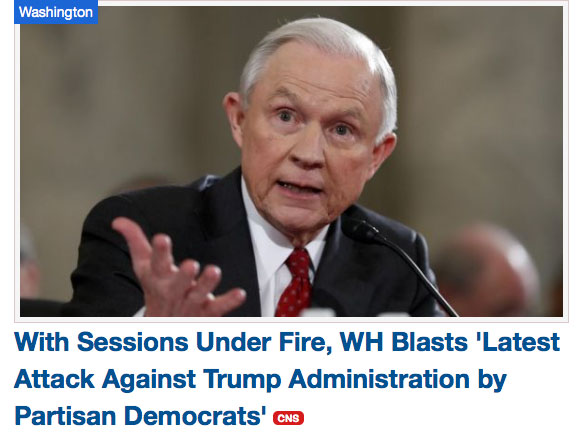 CNSNews.com started out the week continuing to run interference for the Trump administration over allegations of links between Donald Trump's presidential campaign to Russian meddling that benefited his campaign -- this time, a Feb. 27 article by Susan Jones parroting Republican Rep. and House Intelligence Committee chairman Devin Nunes insisting that, in Jones' words, "there is no evidence that any campaign officials -- from either the Trump or the Clinton campaigns -- had any contact with the Russian government or Russian agents before the election." Of course, Jones doesn't mention that Nunes' committee has thus far resisted conducting a formal investigation into the issue, so he really wouldn't actually know that for sure.
Now, CNS is ending the week by running more interference for the Trump administration over Russian linksregarding Attorney General Jeff Sessions' contacts with Russian officials that he failed to disclose under oath during his Senate confirmation hearing. Let the spin begin:
Note that all of these stories push a pro-Trump spin, and their headlines are so vague they don't contain the word "Russia" and only two mention Sessions. And no article CNS published on the issue includes both Sessions and Russia in the headline.
CNS then pulls its biased game of portraying criticism of Sessions as coming from unreasonable Democrats with a vendetta. An article by Jones on Sen. Al Franken calling for a special prosecutor to look into Trump-Russia connections (whose headline also failed to reference either Sessions or Russia) muddied the issue by throwing in Franken's call for Trump to release his taxes in an apparent attempt to portray Franken as a crazed partisan.
Another article by Jones, on Sen. Chuck Schumer's criticism of Sessions, sought to denigrate his authority on the issue by mockingly stating that "Schumer and other Democrats are furiously demanding that Sessions step aside and let an independent prosecutor look into alleged ties to Russia by Trump associates during the campaign."
That was joined by a blog post by Craig Bannister, who wrote that "After then-Attorney General Loretta Lynch confirmed she met with former President Bill Clinton on a plane last June, Sen. Chuck Schumer (D-NY) dismissed calls for an independent prosecutor to take over the Hillary Clinton email investigation." Bannister didn't mention that Sessions demanded Lynch's recusal over the issue -- and it was only after Sessions' communications with the Russian ambassador were disclosed did Sessions bother to recuse himself from investigating a campaign for which he served as a surrogate and for whom he must thank for his current job.
Another Bannister post touted how Fox News floated the idea that Sessions was "targeted" by the Russians.
Jones followed up on March 3 by framing any links between Trump and Russia as merely "circumstantial" and "supposition."
Remember, CNS' parent, the Media Research Center, gets a significant amount of its budget from the Mercer family, which heavily supported Trump's election. It seems the Mercers are buying CNS' "news" pro-Trump coverage as well.
Posted by Terry K. at 2:27 PM EST