CNS Revels In Trump's Anti-Media Tirades
Topic: CNSNews.com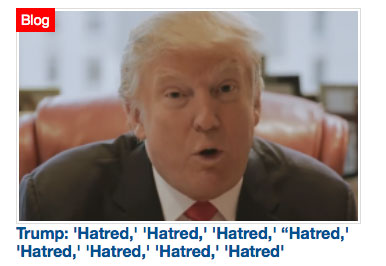 President Trump's Feb. 16 press conference lasted for more than an hour, but all CNSNews.com was interested in reportoing on was Trump's incessant bashing of the media for not being fawning enough of him.
The first two articles CNS published after the presser touted Trump's media bashing:
The next morning, chief Trump stenographer Susan Jones promoted Trump's after-presser tweets, in which he bashed the media some more:
"Trump, Blasted for Rollicking News Conference, Tweets on Friday, 'Fake Media Not Happy'."
The CNS writer who most fully reveled in Trump's media hate, though, is blogger Craig Bannister. One blog post highlighted Trump's attack on CNN in which he told reporter Jim Acosta to "ask Jeff Zucker [head of CNN] how he got his job." "Was this a message meant for Acosta only, or was Trump throwing it out there, hoping someone would pick up on it and investigate?" Bannister asked, suggesting that "There's something shady in the circumstances of Zucker's hiring."
Another Bannister post celebrated how "Trump accused the media of publishing 'fake news' 17 times – about once every four minutes. But, he also blamed the media's fake news on their 'hatred' of him on eight different occasions." The headline hammered Bannister's approval home: "Trump: 'Hatred,' 'Hatred,' 'Hatred,' "Hatred,' 'Hatred,' 'Hatred,' 'Hatred,' 'Hatred'."
When Trump further attacked the media the next day, Bannister screamed it in all caps: "Trump: NYT, NBC, ABC, CBS, CNN Are 'ENEMY OF THE AMERICAN PEOPLE!'" Bannister went on to assert that the news outlets Trump bashed are "purveyors of fake," apparently forgetting CNS' own shameful history of purveying fake news.
Posted by Terry K. at 12:52 AM EST
Updated: Tuesday, February 21, 2017 12:53 AM EST