WND's Farah Proud To Be A Trump Toady
Topic: WorldNetDaily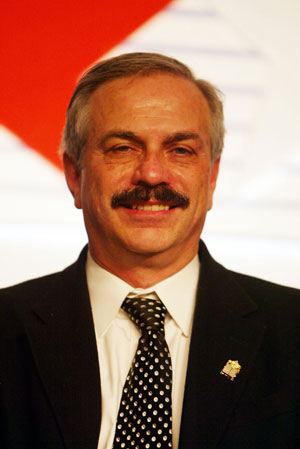 How proud is WorldNetDaily editor Joseph Farah to be a Trump toady? He devotes his Feb. 23 column to expressing his joy that Trump's anti-media tirades can't possibly be about him:
It might be a strange thing to hear from someone who has spent his entire professional life working in the media, but Donald Trump is right when he says the media are "the enemy of the American people."

At first, it did sound a little harsh to me.

I know I would almost certainly not say it myself without thinking about it. And I had never really considered that kind of rhetoric before. But, after serious thought and consideration, I have concluded Trump is right again, at least in the way I believe he intended it.

How did he mean it?

I concluded he wasn't talking about me, my news organization, the kind of work I have done over the last 40-plus years as a reporter, foreign correspondent, running daily newspapers in major markets and founding the very first independent, online news service.

I know that because Trump has only praised my work and my news organization.

So, I should not take his comment personally – as if it were directed at me.
Farah then proceeded to explain what Trump meant:
The vast majority of the media have been lying about Trump and his agenda. You will not find a more hostile environment regarding Trump than in most American newsrooms. They hate him. They detest him. There's nothing they admire about him. They don't believe he was really elected president. And they will never stop attacking him – personally, politically, spiritually, you name it. They will even do stories that claim he is mentally unhinged.

They even concoct stories out of whole cloth.
Replace "Trump" with "Obama" in the above words, and you've just described the agenda Farah and his WND pursued for the past eight years. Farah and WND hate Obama. They detest him. They didn't believe Obama was elected president, and they attacked him personally, politically, spiritually, you name it. They even claimed he is mentally unhinged.
And, yes, Farah and WND made up things about Obama.
Farah doesn't explain why he gives himself and his "news" organization a pass for the same behavior he purports to deplore in other media outlets.
Posted by Terry K. at 12:11 AM EST