WND Clinton Derangement Watch
Topic: WorldNetDaily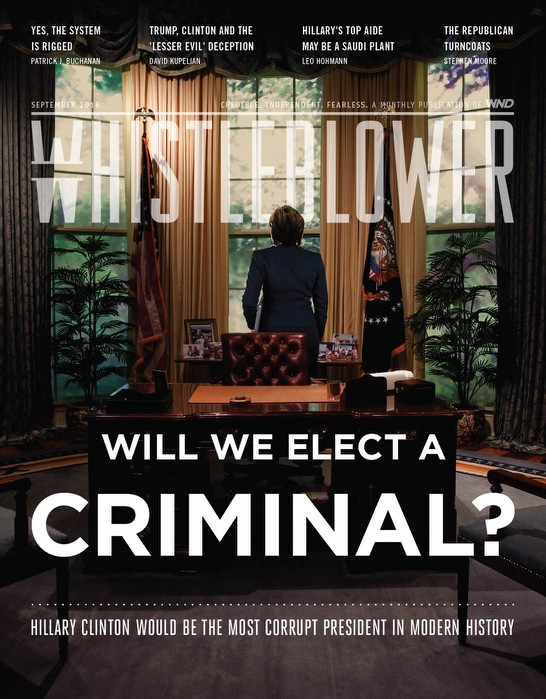 A few months back, WorldNetDaily took a full dive into Clinton derangement by devoting an entire issue of its sparsely read Whistleblower magazine to likening Hillary Clinton to Nurse Ratched. Apparently WND has worked up enough material for another Hillary-hating issue of Whistleblower, and it's been unleashed under the theme "WILL WE ELECT A CRIMINAL?"
WND's promotional copy for the issue shows just how far down the Clinton derangement rabbit hole it is -- led by WND managing editor David Kupelian, who sold his soul to back Donald Trump:
Of all the astonishing, historic aspects of the 2016 presidential election, perhaps the most vexing is that something like half of America's voters seem content to elect a pathologically lying career criminal as president.

How can this be? Has the electorate grown stupid – or morally dead?

In some cases, yes, but many more are just abysmally ignorant, as revealed by an Annenberg Public Policy Center poll showing almost two-thirds of Americans cannot even name the three branches of the federal government. Tens of millions are just not paying attention.

The establishment news media, so totally biased toward Hillary Clinton they've abandoned their former pretense of objectivity, diligently labor to keep the electorate uninformed. So far they have been successful in protecting their favored candidate from public exposure of her three-decades-long record of crime, corruption and sleaze.

This is the electrifying topic of September's issue of Whistleblower magazine, headlined "WILL WE ELECT A CRIMINAL? Hillary Clinton would be the most corrupt president in modern history."

[...]

Why does the American public give the Clintons a pass on their lifelong, ever-cascading criminality?

"Dishonesty, deceitfulness, demagoguery – traits typical of so many politicians – are things the public understands," said Whistleblower Editor David Kupelian. "Lying they understand; politicians lie. Liberal versus conservative they understand, also pro-abortion versus anti-abortion, socialism versus capitalism, amnesty versus deportation, sexual anarchy versus biblical values. They understand that candidates hold very different views on these issues and support or oppose them on that basis."

However, said Kupelian, "actual criminality – the kind that lands people behind bars – is something else, and the reality of Hillary and Bill as career criminals hasn't yet truly penetrated the public mind."
Kupelian also made one more attempt to shame people into abandoning their sense of morality like he did: "It's about time the self-absorbed NeverTrump Republicans wake up from their pathetic delusions before it's too late. If they don't, I predict they will come to regret their great foolishness during Election 2016 for the rest of their lives."
But what if the person with the pathetic delusions is actually Kupelian? He won't talk about that.
Posted by Terry K. at 12:18 AM EDT