MRC Spins Hard To Falsely Blame Hillary For Birtherism
Topic: Media Research Center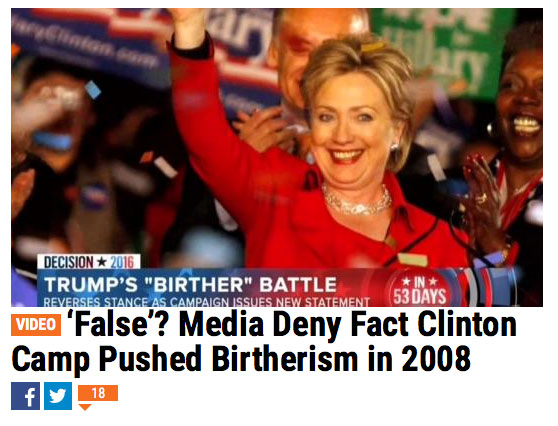 The Media Research Center couldn't be a better public-relations agent for the Trump campaign if it was being paid for it (and it may be, as far as we know). Just look at how it is despserately spinning for Trump to go against the facts to portray Hillary Clinton -- not Trump -- as the biggest promoter of birtherism.
Kyle Drennen kicked off the spin campaign by flat-out denying facts:
On Friday, both NBC's Today and CBS This Morning blasted Donald Trump for refusing to respond to a question about whether President Obama was born in the United States and "fact-checked" his assertion that Hillary Clinton's 2008 campaign actually first pushed the conspiracy theory. On Today, correspondent Peter Alexander noted: "The Trump team issuing a reversal, saying, quote, 'Mr. Trump believes President Obama was born in the United States'....And falsely accusing Hillary Clinton's 2008 campaign of first raising the issue."

On This Morning, correspondent Major Garrett similarly mentioned: "At a conservative political conference in 2015, Trump again questioned the President's citizenship and falsely tried to pin the rumor on Hillary Clinton's 2008 campaign."

Most likely both reporters picked up the "false" label from liberal source PolitiFact, which rated the claim to be untrue. However, the website's own fact-check of the issue cited a Daily Beast report which detailed the prominent role a Clinton campaign volunteer played in push birtherism during the 2008 campaign.
Drennen proves that statemenet wrong by quoting from a Politico article admitting that "a volunteer coordinator in Iowa had to step down from the Clinton campaign after the coordinator sent an e-mail saying Obama was a Muslim."
So, no, not actually "prominent" at all.
Next up was Tom Blumer, who was upset at the Associated Press for stating the fact that "there is no evidence" that "the 'birther movement' was started by Hillary Clinton." His evidence that this isn't true: The hosts of "Morning Joe" chatting about it. No, really.
Blumer also brings up the 2007 Mark Penn memo proposing to attack Obama's "American values," but he fails to mention that Penn's suggestion was never implemented by the campaign. Nevertheless, Blumer rants: "Memo to AP and all the other establishment press outlets claiming that Donald Trump is making a false claim about Hillary Clinton: Yes, there is evidence, and no, it's not a false conspiracy. You just don't have the courage to do your jobs, break from your reflexive pro-Hillary mindset, and report it."
Just like Blumer doesn't have the courage to admit he's trying to deflect attention away from Trump for an odious act he did for much longer than Hillary Clinton was ever accused of doing it?
Blumer followed up with another post with some new supposedly damning evidence: how Sidney Blumenthal, "a close confidant of Mrs. Clinton herself," allegedly floated it in 2008 to a couple of McClatachy reporters, who checked it out and found no merit. Blumer did note that Blumenthal denied the allegation, then sneered, "Sure, Sid."
But neither Blumer nor McClatchy offer any evidence that Blumenthal was acting in any official capacity for Hillary's 2008 campaign. Yet Blumer attacks McClatchy for keeping its investigation hidden for all these year -- as if facts would have stopped Trump from embracing birthers.
Remember, Blumer and the MRC could have forcefully denounced birtherism a long time ago before it took root on the right and when Trump first embraced it, but they didn't. The MRC it took great interest in the subject only when birther allegations swirled around Brent Bozell's preferred candidate, Ted Cruz (which, as it so happens, was also promoted by Trump).
Clay Waters came next, complaining that the New York Times "denied that the Hillary Clinton camp had anything to do with spreading the lie in the first place, though information both new and old undermines that easy assertion." Waters is muddying his terms here; by using the word "camp," he's suggesting that birtherism was promoted as an official campaign strategy -- which it wasn't.
Jeffrey Lord then rants about the "birther" issue being applied to John McCain in 2008 because he was born in the Panama Canal Zone. But Lord omits the obvious: once experts ruled that McCain was indeed a "natural born citizen" and, thus, eligible to run for president, it quickly stopped being an issue. Trump pushed birtherism for five years despite the fact that his claims had been discredited.
Brad Wilmouth then made his case for Blumenthal being meaningful: "Even though Blumenthal was not a paid part of the Clinton campaign, if he made efforts to boost Clinton by trying to tear down her opponent, such activities would still be part of the Clinton team effort." Well, no, not if he wasn't a "paid part of the Clinton campaign."
Next up was Nicholas Fondacaro, who asserted it was "not accurate" to claim that the Clinton campaign never pushed birtherism, but he cites only the never-implemented Mark Penn memo and Clinton supporters he does not prove had any official sanction from the campaign. Despite the fact that he has nothing, Fondacaro repeats his so-called evidence in a second post.
The MRC is being fundamentally dishonest. Rogue supporters were not the "Clinton campaign." Sid Blumenthal was not the "Clinton campaign." And the MRC completely censors the fact that it was right-wingers like WorldNetDaily and political opportunists like Trump (with WND's help) who perpetuated the birther lies long after anyone even remotely linked to the "Clinton campaign" stopped talking about them.
The fact that birtherism is an issue today is because of Trump, not Clinton. The MRC -- which promoted Obama birtherism off and on through the years -- should stop shilling for Trump and tell its readers the truth.
Posted by Terry K. at 9:01 PM EDT
Updated: Sunday, September 18, 2016 9:08 PM EDT