WND Censors Alleged Broaddrick Witness' Grudge Against Clinton
Topic: WorldNetDaily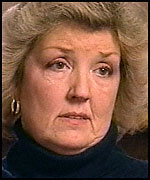 An anonymously written Sept. 14 WorldNetDaily article states:
Juanita Broaddrick's rape accusation against Bill Clinton now has medical corroboration for the alleged violent attack that occurred in a hotel room 38 years ago.

Norma Rogers, the nurse who treated her in the hotel room immediately following the incident, told Aaron Klein, a radio host in the New York and Philadelphia markets and a staff writer for Breitbart News: "She was crying. And the thing I think I remember most is that her mouth was all swollen up. It was cut. … Her pantyhose were all ripped."

At the time, Broaddrick was a nursing-home administrator volunteering for the gubernatorial campaign of then Arkansas Attorney General Bill Clinton in 1978.
The anonymous writer did admit that Rogers "worked for Broaddrick," but there's no mention of another, more pertienent issue regarding Rogers.
We've previously noted that Rogers and her family has a grudge againsdt Bill Clinton because as Arkansas governor he had commuted the death sentence of the man convicted of murdering her father.
That, along with her apparently loyalty to her former employer, tells us that she's not objective on this issue, though that should be taken into consideration in reporting her story. Klein's story at Breitbart summarizing his interview also fails to report this important fact.
But she's telling the story that WND wants to hear, so WND will give her a free pass.
Posted by Terry K. at 3:46 PM EDT