MRC Promotes Dubious, Republican-Friendly Review of 2000 Election in Florida
Topic: Media Research Center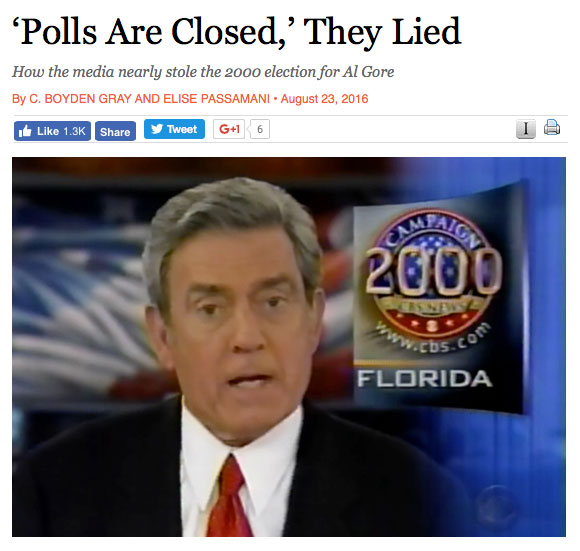 The Media Research Center's Tim Graham used a Sept. 5 post to tout a study of sorts published in the American Conservative and summarized at the right-wing Washington Examiner asserting that thousands of people were discouraged from voting when TV networks mistakenly declared all Florida polls closed during the 2000 president election (in fact, polls in the Florida panhandle were open another hour).
Graham declared that "liberal media inaccuracy and bias" was the cause for the 2000 Florida "frenzy," going on to rant that "the networks didn't want to take the blame. They blamed the Voter News Service, the consortium they formed, which they held responsible for telling them what times the polls closed. How lame is that buck-passing?" He added: "When Congress held hearings in February 2001, the networks were dismissive. Especially Dan Rather, who gave it just 29 seconds buried deep in the newscast."
But Graham engaged in more than a little of his own bias here. First, he identifies study co-author C. Boyden Gray rather blandly as a "former Bush lawyer." That should raise red flags about the study's potential bias, but Graham sees no need to pursue it. In fact, not only was Gray was White House counsel for George H.W. Bush, he served in George W. Bush's administration as ambassador to the European Union and a special envoy for European affairs. Additionally, Gray defended the Supreme Court decision that ultimately made W. president and appeared to endorse a Republican plan to take over the recount process in Florida if Bush wasn't made president.
Second, in his bashing of the "liberal media" over Voter News Service, Graham leaves out the fact that Fox News was also a member of the consortium -- which Gray and co-author Elise Passamani note in their study -- and that it too got the poll closing time wrong. Graham also doesn't mention whether Fox News was as "dismissive" about the hearings as the other members of the consortium.
Third, Graham carefully quotes from Gray's report to hide the fact that, his ranting aside, Voter News Service really was the problem, not the "liberal media." The report states that "The VNS operated as the media's sole source for information ranging from exit polling to poll closing times."
Fourth, Graham apparently never read the full report in the American Conservative, which should have raised another red flag. Gray and Passamani's big claim is that Bush would have received 11,000 more votes from the panhandle counties if it had not been erroneously reported on TV (which, again, includes Fox News) that the polls were closed. Their only evidence for this is an extrapolation of voting data and "sworn, notarized testimony of a pair of poll workers who were on duty as inspectors that day in Precinct Eight, Escambia County" who offer anecdotes about how few voters showed up to their precinct in the final hour. The authors also state, "one can only imagine how many people would have voted in that last, deserted 40 minutes, but for the misinformation dispensed by the network and cable news anchors."
Gray and Passamani must "imagine" this because they cite no testimony of an actual voter who was discouraged from voting due to the erroneous reports. If there were truly 11,000 people discouraged from voting, they shouldn't be that hard to find, right?
Actually, they are -- and they were then. As we noted at the time, WorldNetDaily's Paul Sperry reported that Republicans were hunting for discouraged voters to bolster their lawsuits over the outcome in Florida, but mostly failed:
After a week-long dragnet, Republicans have been able to scare up just a handful of Bush supporters willing to testify that they canceled trips to the polls after the networks gave Florida to Gore 11 minutes before polls closed in the Panhandle's Central time zone.

And even some of those witnesses are impeachable.

One lives 20 minutes from his polling place in White City, Fla., and probably wouldn't have been able to make it there in time to vote.

Another isn't even registered to vote in the county that includes his Pensacola, Fla., neighborhood, WorldNetDaily has learned. The man's name and number were offered to the media yesterday by Rep. Cliff Stearns, R-Fla.

[...]

An aide to state Rep. Jerry Maygarden, R-Pensacola, told WorldNetDaily last week that several voters called her office claiming to witness people walking away from poll lines after the network announcements.

WorldNetDaily followed up with several of the callers, but none could provide names.
That would seem to be a glaring omission, and it is -- that's a giant hole in Gray and Passamani's study.
But the authors are close enough to endorsing the MRC's anti-media agenda that Graham will endorse it, overlook the holes and gloss over the inconvenient stuff.
Posted by Terry K. at 10:07 AM EDT