WND Spreads Muslim Rumors About Kaepernick
Topic: WorldNetDaily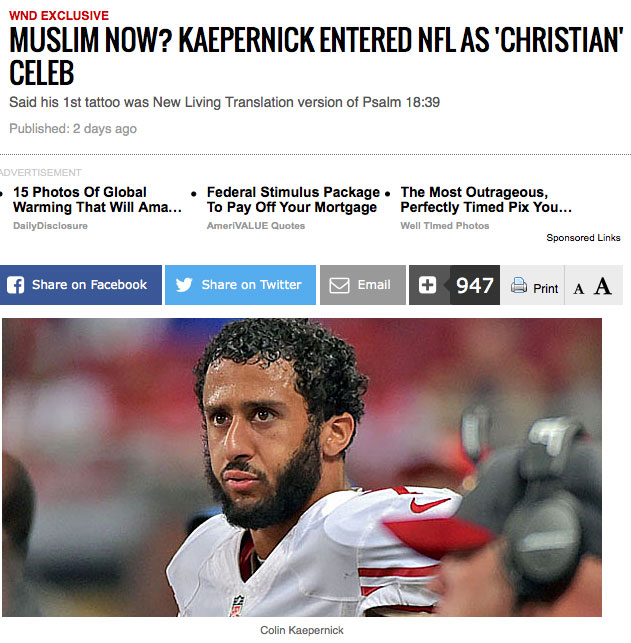 WorldNetDaily editor Joseph Farah once claimed that "While WND strives for "fair and balanced" news coverage, it believes a higher value not emphasized strongly enough by competitors is the pursuit of the truth," adding that "In our work, WND reporters and editors are always encouraged and required to seek out multiple sources and contrary viewpoints in news articles."
That's never been true, of course; Farah can ask a certain Tennessee car dealer, for example, about WND's commitment to "the truth."
Now, WND's purported journalistic standards have sunk so low that it is now reporting never-verifed rumors as "news."
WND's response to NFL quarterback Colin Kaepernick's sit-down protest of the national anthem was to pen another anonymously written article, this one designed to spread the rumor that Kaepernick is a secret Muslim.
The article begins, under a picture of a bearded Kaepernick, apparently chosen to emphasize the Muslim suggestion: "With rumors afire that San Francisco 49ers quarterback has not only embraced 'Black Lives Matter' activism but Islam, it's worth reflecting on the way he came into the NFL – as a 'Christian' celebrity, with most of the controversy in his life concerning his tattoos." The article continues to hammer home the rumors attacking Kaepernick and his girlfriend:
According to widespread reports, still unconfirmed, he and his girlfriend, Nessa Diab, an MTV DJ, may be planning an Islamic-style wedding. During Ramadan, he posted a greeting on Instagram wishing his friends the best for the holiday: "kaepernick7 I know a lot of people who were fasting during Ramadan, wishing you a Happy Eid!"

[...]

Meanwhile, Kaepernick has been dating Diab, a graduate of UC Berkeley's mass communications department.

Known professionally as just "Nessa," she worked nights at San Francisco radio station Wild 94.9 from 2009 to 2014. At 31, she's three years older than Kaepernick.

According to an East Bay Times profile, she was born in Southern California, but frequently moved between the U.S. and Middle East growing up, thanks to her father's job.

While her faith is not known, several unconfirmed reports say she, also a "Black Lives Matter" proponent, is a Muslim – though she hardly dresses in traditional hijab.
Note that WND admits these rumors are all "unconfirmed." Normal journalistic practice is not to report something until it is confirmed, but WND never cared much for normal journalistic practice.
WND can't even be bothered to link to any of those "widespread reports" it claims are pushing the secret-Muslim story, which tells us that perhaps those "reports" aren't as widespread as WND wants you to think.
With such lazy, hate-driven writing passing for "journalism," is it any wonder WND is in financial trouble?
Posted by Terry K. at 4:42 PM EDT