No, WND, John Kerry Did Not 'Go Birther'
Topic: WorldNetDaily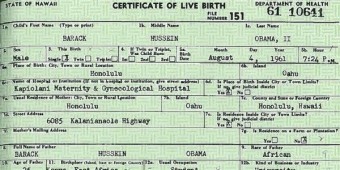 In the past couple of months, WorldNetDaily -- in an apparent attempt to cover up its own shameful birther legacy, which played no small role in the utter lack of credibility that has forced WND into its current financial crisis -- has tried to redefine what being a "birther" is. Now, according to WND, if you obliquely reference something regarding Obama's birthplace as a way to mock birthers (like WND) for their pursuit of a discredited issue, you are now a "birther."
WND is trying this revisionism again in an unbylined Aug. 22 article headlined "Kerry goes 'birther,' thanks Kenya for Obama":
During an appearance in Nairobi, Secretary of State John Kerry said he thanked the Kenyan president for giving America "a president of the United States" – a comment alluding to the contested issue of where President Obama was born.

On Monday, Kerry told Kenya's foreign minister he had a conversation with Kenyan President Uhuru Kenyatta concerning the Olympic Games in Rio and President Obama's birthplace:

I had the pleasure of beginning that meeting [with Kenyatta], as I want to begin this press conference this afternoon, by congratulating Kenya on something no nation's athletes have ever before accomplished, and that is to win both the men's and the women's marathon races at the Olympic Games. Absolutely extraordinary. When I mentioned that to President Kenyatta, he promptly said to me, "Well, we also had a hand in helping you win a silver because the person who won came from Kenya." (Laughter.)

"And I said, "Actually, Mr. President, you did better than a silver and a gold. You gave us a president of the United States." (Laughter.) So you can see we had a very friendly and positive beginning to the conversation.

Kerry's comment refers to a widespread push during Obama's first term for the president to release his long-form birth certificate amid questions of his natural-born citizenship and constitutional eligibility to serve.
Um, no, it doesn't. Kerry said nothing -- nothing -- about the birther issues manufactured by the likes of WND. He was noting Obama's Kenyan heritage.
WND went on to pretend the eligibiilty issue is ongoing:
While the president claims he was born in Honolulu, there have been numerous questions, especially since a law-enforcement investigation by Sheriff Joe Arpaio of Maricopa County, Arizona, found "probable cause" that the birth certificate released by Obama was forged. Also, Obama mysteriously has a Connecticut-based Social Security Number, when neither he nor his parents ever lived there.
In fact, the state of Hawaii has officially verified he was born there, the "law-enforcement investigation" was an incestuous, incompetent joke, and Obama's "Connecticut-based Social Security Number" is a meaningless distinction and more than likely a clerical error.
Funny that WND has never reported the truth about how discredited birthers are.
WND then repeated the falsehood that "it was Hillary Clinton herself who started the birther movement in 2008, according to numerous news agencies." But to back this up, WND links to only one, the Hillary-hating Breitbart, whose leader is now in charge of Donald Trump's presidential campaign.
The evidence Breitbart cites is a 2008 campaign memo by strategist Mark Penn suggesting making Obama's lack of American "roots" an issue. But not only is there no evidence the memo questioned Obama's citizenship or elligibility to be president -- two pillars of the birther movement led by WND -- and not only did her campaign never act on the part of the Penn memo suggesting she play up Obama's "otherness," staffers who did bring it up were admonished. Further, In fact, numerous fact-checkers have found no link between Hillary Clinton and birther attacks on Obama.
If WND was really interested in restoring its credibility with America, it would apologize for the lies it told in its birther crusade and ask for forgiveness. But it won't, which means further financial instability and and an even longer period in which nobody believes WND.
Posted by Terry K. at 12:50 AM EDT