AIM Lets Anti-Gay Activist Attack 'Media Myths' About Gay 'Agenda'
Topic: Accuracy in Media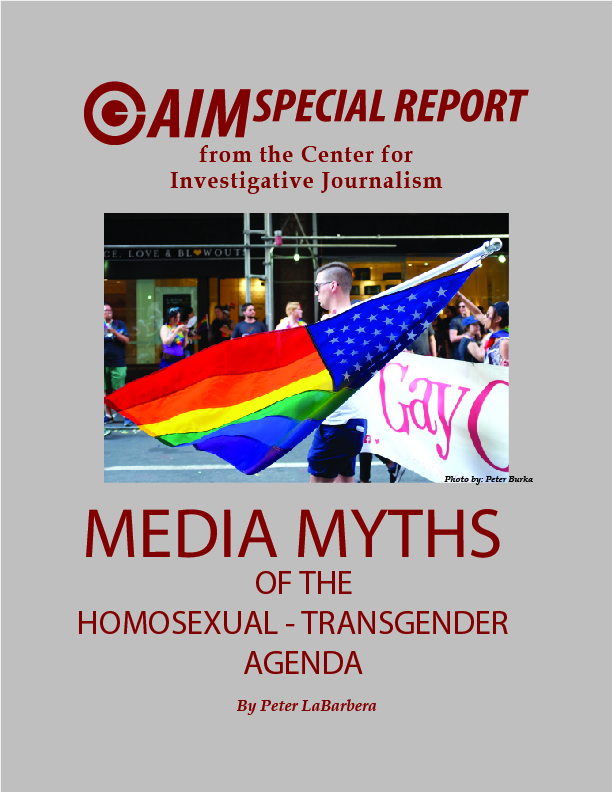 Accuracy in Media -- never particularly friendly to gays -- has published a report claiming to "expose and refute some of the longstanding statistical lies and propagandistic myths of the LGBT (Lesbian, Gay, Bisexual, Transgender) activist movement."
One huge sign the report wouldn't live up to the standards in AIM's name: it was written by Peter LaBarbera, head of the virulently anti-gay group Americans For Truth About Homosexuality. The Southern Poverty Law Center has detailed how LaBarbera and his group traffics in distortions and falsehoods about gays.
True to form, LaBarbera paints gays as filthy and disease-ridden, lovingly detailing how they are more likely to catch diseases like HIV and syphilis. He denies all evidence that homosexuality may have a genetic basis and thinks bans on conversion therapy are "highly dangerous" (as opposed to the therapy itself).
LaBarbera touts a study claiming that children of homosexual parents have more emotional problems than in other types of families, but that study has been criticized as using highly flawed data and was published in a for-profit journal that takes payments from authors to get published, meaning that its peer-review process was questionable.
LaBarbera also extensively quotes discredited anti-gay and anti-transgender psychiatrist Paul McHugh -- a favorite of CNSNews.com managing editor Michael W. Chapman -- and his list of "helpful sites" all at least as gay-hating as his own, except for the Centers for Disease Control, which "is strongly pro-homosexual" but serves LaBarbera's purpose by issuing reports with "ample evidence on the relationship between homosexual/bisexual behavior and disease."
So anti-gay hate is "accuracy in media"? Apparently it is at AIM.
Posted by Terry K. at 9:29 AM EDT