WND Columnist: Blacks Not Interested in Achievement, Whites Owe Them Nothing
Topic: WorldNetDaily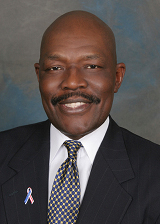 Mychal Massie is a WorldNetDaily columnist who invokes his black-conservative privilege by saying things that would be considered virulently racist if he was white.
Massie strikes again in his Aug. 22 WND column:
The unpopular truth is that most blacks are not interested in achievement as such nor moral propriety. Most are motivated to make white people pay for some perceived injustice, past and/or present. Whites were not singularly responsible for the slave trade; Muslims played the greater role and continue to at this very time in history. Slavery was immoral but it wasn't illegal, and America had the good sense and decency to abolish it. Jim Crow was a white Democrat construct of rabid segregation, but that hasn't stopped blacks from supporting Democrats en masse for the over 50 years – but again, I digress.

Another unpopular truth is that most blacks are more interested in being crayon colors than they are in modernity. They complain and blame whites when the ramifications of their bad behavior and irresponsible decisions result in crisis. The media and fallacious studies refuse to acknowledge the truth of what I have just stated. They'd rather make excuses for said commonality and anti-societal behavior.

It is time to stop making excuses, and it is time to stop allowing blacks to define propriety. And it is long past time to stop blaming whites for some mythical privilege they alone enjoy. White people owe blacks nothing.

Many blacks go through life with a chip on their shoulder ready to blame any slight, real or perceived, as representative of racism. They go through life believing the white man is holding them back and white police are out to gun them down.

Which brings me to another unpopular truth. Not all blacks subscribe to bad behavior, but barely enough blacks to be measured publicly admonish the boorish behavior of the black masses.
Again: Imagine if Massie was white and saying such things.
Posted by Terry K. at 12:11 AM EDT