CNS Columnist Brings Back 'Demographic Winter'
Topic: CNSNews.com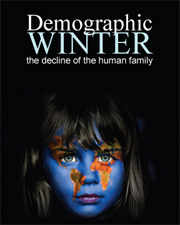 Several years back, we wrote about the ConWeb's focus over what they called "demographic winter" -- veiled racism that effectively boiled down to the concern that white Christians weren't having enough babies and brown Muslims were having too many. It was rarely put in those terms, of course; it's usually framed as "Western countries" having their "traditional values" squeezed out by "immigrants."
Well, CNSNews.com has brought it back with an Aug. 19 column by John Stonestreet. He engages in the usual eupemistic language as his headline shows: "America's Looming Demographic Winter: Can We Avoid a Fertility Free Fall?" He does change things up, however, by throwing Japan and China into the discussion, but he makes it clear he's worried mostly about Christians' apparent failure to procreate:
Which brings me to what Christians should think about this: As my colleague Warren Cole Smith points out, the solution is obvious: Start making babies again. It's easy. It's fun. It's good for America. And it brings great joy!

But you might be surprised at how resistant many Christians are, including young people, to this counsel. Twice this summer, I've made students cry just by suggesting that marriage and babies are biblically a package deal. Though Christians disagree about the morality of artificial birth control, we should agree that the contraceptive mindset, which treats children as optional only if we want them, runs contrary to God's intention for marriage.

The demographic winter is coming. In fact, the first snows have already fallen. Will we make what is already "disaster" even worse?
Stonestreet's implied but unspoken subetxt: Non-Christians in the U.S. should perhaps be breeding less.
Posted by Terry K. at 10:01 PM EDT