MRC: Norman Lear Isn't A 'Patriotic American' Because He's Liberal
Topic: Media Research Center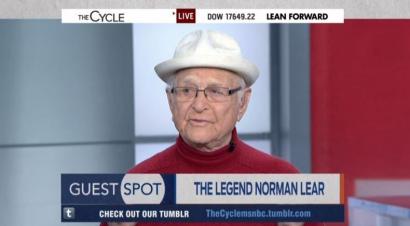 The Media Research Center's Alatheia Nielsen rants about Norman Lear in an Aug. 17 item:
For an op-ed meant to convince Republicans to dump Trump, TV producer and media mogul Norman Lear sure talked a lot about himself.

Lear tried to portray himself as an average, patriotic American in an Aug. 15, guest column in The Hollywood Reporter, but it was all a ruse.

In between discussing his own WWII service, and revealing that he swears at the news, the liberal attacked Republican presidential nominee Donald Trump calling him a "demagogue" and "that human middle finger to the American Way." Borrowing an iconic phrase from American politics, Lear charged Republican Trump supporters to look in the mirror and ask themselves "Have you left no sense of decency, Sirs?"

But no matter how much he portray himself that way, Lear isn't just like every other American. His overachieving $50 million net worth aside, Lear has built his life around attacking and belittling conservatives — first with TV shows like All in the Family — and then by founding People for the American Way (PFAW).
Is Nielsen really saying that Lear can't possibly be an "verage, patriotic American" because he's liberal? Sure looks that way.
Nielsen went on to rehash a couple of bogus attacks on PFAW division Right Wing Watch:
An offshoot of PFAW, Right Wing Watch, tracks conservative groups and individuals. Media outlets often pick up Right Wing Watch's conservative attacks, even when they're wrong.

In April 2015, Politico, Salon, Huffington Post, The Washington Post and Mother Jones all claimed Scott Walker said ultrasounds should be mandatory since they're "a cool thing:" a false accusation first circulated by Right Wing Watch.

Right Wing Watch also accused HGTV's Flip it Forward stars David and Jason Benham of being "anti-gay, anti-choice extremist[s]." Thanks to outside media attention, the brothers lost their show.
As we documented when Nielsen first made these claims, that's a fair interpretation of Walker's words -- not "false" -- given that the context of the interview in which he made the remark was using the "cool thing" anecdote to justify the forced-ultrasound bill he signed into law. And the Benham brothers really are "anti-gay, anti-choice extremist[s]," however much Nielsen wants to pretend otherwise. Does she think it's somehow not extremist to call homosexuality "demonic" and rant outside abortion clinics that they are the "altars of Moloch"?
Posted by Terry K. at 2:22 PM EDT