Newsmax Promotes 'Experts' Pushing Dubious Claim About Keystone Pipeline
Topic: Newsmax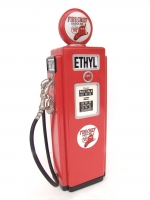 Melanie Batley writes in a May 27 Newsmax article:
President Barack Obama's reluctance to approve the Keystone XL Pipeline, despite widespread popular support for the project, is not only hindering America's energy independence but driving up the price of gas for American consumers.

According to a column in Forbes Magazine by Kathleen Hartnett White and Vance Ginn, experts at the Texas Public Policy Foundation, recent geopolitical instability and disruptions and bottlenecks in the supply of Brent crude oil from the North Sea have driven up costs for American refiners, leading to higher retail prices at the pump.
Batley doesn't mention that the Texas Public Policy Foundation is a right-wing think tank that pays its analysts to come up with opinions like that.
Batley also ignores that other experts hold other opinions on the Keystone pipeline's effect on oil prices.
The Washington Post has noted that not even the company that wants to build the pipeline is claiming that it will lower gas prices. And another Forbes columnist suggests that the pipeline might actually raise gas prices.
But most experts agree that the Keystone pipeline will little to no effect on gas prices in the U.S., since it's unlikely that oil companies will pass on their pipeline-derived savings to consumers.
Posted by Terry K. at 4:22 PM EDT