CNS' Jeffrey Can't Stop Peddling Obamacare 'Abortion-Inducing Drug' Myth
Topic: CNSNews.com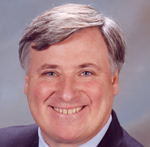 Terry Jeffrey rants in a May 21 CNSNews.com column:
Two Senate committees held hearings this month on the nomination of Office of Management and Budget Director Sylvia Mathews Burwell to succeed Kathleen Sebelius as secretary of Health and Human Services, the federal agency most responsible for overseeing implementation of Obamacare.

In these two hearings, according to transcripts published by CQ Transcriptions, the senators and the nominee spoke approximately 49,000 words. Not one of these words directly addressed the contraception-sterilization-abortion-inducing drug regulation that Sebelius issued under Obamacare and that is now the target of more than 90 lawsuits.

[...]

The central question in the lawsuits filed against Sebelius is whether the federal government can force Americans into complicity with the taking of innocent human life by compelling them to buy or provide health insurance that covers abortion-inducing drugs.

[...]

As the enforcer, Burwell will effectively tell Americans: Under Obamacare's individual mandate, you must buy health insurance, and under our regulation, that insurance must cover abortion-inducing drugs.
As we've repeatedly documented, no drugs that fit the medical definition of "abortion-inducing drugs" are covered by Obamacare.
Why must Jeffrey and CNS continue to lie about this provision?
Posted by Terry K. at 10:23 PM EDT