MRC Loves Sharyl Attkisson, Buries Her History of Shoddy Reporting
Topic: Media Research Center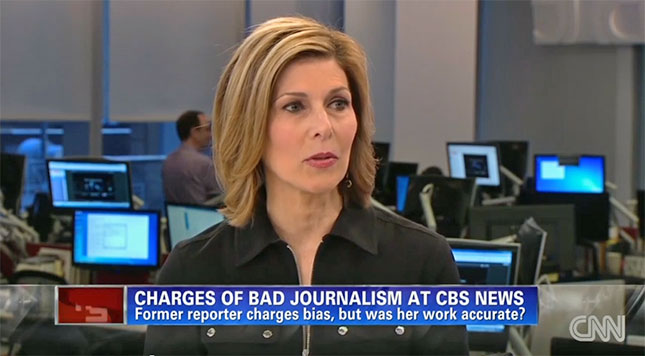 The Media Research Center is unsurprisingly promoting former CBS reporter Sharyl Attkisson's media tour in which shse claims that she was being too critical of the Obama administration:
Tim Graham promoted Attkisson's appearance on Fox News, in which she and Hhoward Kurtz commisserated about "liberal bias leading to soft coverage of Obama." Graham touted Attkisson's CNN interview as well, in which she discussed how "CBS lost interest in investigative journalism to favor Obama." NewsBusters' Tom Johnson attacked TPM's Josh Marshall for being critical of Attkisson's unsupported claims of being targeted by Media Matters (disclosure: my employer); Johnson didn't mention that Media Matters has denied the claim and pointed out that it targeted Attkisson solely for her shoddy reporting.
What you won't read at the MRC, however, is any new criticism of Attkisson's embrace of anti-vaccine conspiracy theories, even though it has criticized other anti-vaxxers like Jenny McCarthy.
As author Seth Mnookin reports, Attkisson has "parroted anti-vaccine rhetoric long past the point that it's been decisively disproved," repeatedly pushing the discredited idea that vaccines cause autism.
And the MRC certainly won't tell you that it criticized Attkisson's reporting on vaccines in the past:
A 2005 item criticized an Attkisson report for lending credence to claims linking vaccines to autism. A 2005 column by Dan Gainor repeated the criticism.
A 2008 MRC item criticized how "Attkisson reported on the plight of the parents of an autistic child and their fight to win money from a federal fund for 'vaccine damages.'"
Another 2008 item noted that CBS' newfound reporting that there is no link between vaccines and autism contradicts Attkisson's earlier reporting.
In one of his posts, Graham references "people who questioned [Attkisson's] reporting on autism and vaccines," but he didn't mention that one of those critics has been the MRC.
If the MRC didn't trust Attkisson when she peddled faulty reporting on vaccines, why does it trust her now on her victimhood, even though her reporting on Benghazi and other Obama administration issues is just as untrustworthy?
Because Attkisson is now portraying herself as a victim of liberal bias, which aligns perfectly with the MRC's anti-media agenda.
Posted by Terry K. at 3:15 PM EDT
Updated: Tuesday, April 22, 2014 3:33 PM EDT