AIM's Sex-Obsessed Kincaid Upset At Being Called 'Sex-Obsessed'
Topic: Accuracy in Media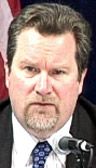 In a June 10 Accuracy in Media column, Cliff Kincaid takes some potshots at Glenn Greenwald, who broke the story about the NSA's surveillance program, dismissing him as a "far-left columnist" and irrelevantly attacking his personal life:
An American by birth, he currently works for a foreign publication, the Guardian, and has a "lover" in Brazil he calls his "husband." He apparently doesn't live in the U.S. because of its alleged oppressive treatment of homosexuals.
Then, after writing that, Kincaid takes hilarious exception to Greenwald once calling him "sex-obsessed":
In fact, Greenwald called this writer "the truly deranged, sex-obsessed, conspiracy-monger Cliff Kincaid," and said my criticism would prompt him to place his "Izzy" award "on an even more prominent shelf" in his office.

The term "sex-obsessed," when used against this columnist, was apparently a reference to opposition to giving special rights to practitioners of the homosexual lifestyle, such as Glenn Greenwald and Bradley Manning.
Kincaid provides no evidence that Greenwald's sexual orientation has anything to do with his reporting, which makes his insistence on making sure we know that Greenwald is gay the very definition of "sex-obsessed." Besides, Kincaid has long obsessed over homosexuality-- huffing that Rachel Maddow is "a lesbian with hair so short that she looks like a man," portraying the homosexual "lifestyle" as more dangerous than smoking, and endorsing a proposed law in Uganda that would allow execution of people for mere homosexuality.
Strangely (or maybe not), Kincaid doesn't take exception to be called "deranged" or a "conspiracy-monger."
Posted by Terry K. at 12:23 PM EDT