James Walsh's Fellow Citizens All Sound Suspiciously Like James Walsh
Topic: Newsmax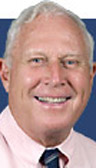 Newsmax columnist James Walsh loves to devise trips to grocery stores or wherever and invent people who speak articulately about the same things Walsh just happens to write about: bashing immigrants and President Obama.
The latter was only display in Walsh's May 31 column:
On a sunny Saturday morning, locals and tourists were lined up in a Southwest Florida supermarket checkout line, when a regular customer proclaimed for all to hear: "The IRS screws us, Obama and Hillary sleep through the killings in Benghazi, and our Border Patrol Agent's death is said to be the imagination of right-wing nuts living in the past. I may be a Democrat, but how long will it take for Americans to speak up?"

Tourists in the checkout line seemed stunned, but year-round residents took the comment as a cue to voice their thoughts.

[...]

A town leader noted, "Obamacare, which the majority of Americans is against, is a fraud. Democrats have no problem with Benghazi and the killing of four Americans. Where was President Obama? — campaigning. The attorney general lies about a newsman's phone records, and IRS officials take the Fifth. Is this Obama's transparency? Mr. President, the entitlement takers — not the workers — voted for you. The takers just want money and you give it to them — they are the greedy ones."

Stunned silence was followed by applause in the checkout line.

[...]

A Marine veteran declared, "It's my turn at this impromptu town hall." Looking around, he continued, "Benghazi is a disgrace. You don't leave a buddy hanging out there. You go for him — regardless of the odds."

He continued, "Veterans want to know: Who ordered the stand down? We believe it was a political decision and to hell with the front-line guys — they were just stupid American mercenaries. As Chris Matthews brags, he was in the Peace Corps, inferring that smart people go in the Peace Corps, while dumb-ass peasants fight for America rather than blaming it.

"We ask, 'Mr. President, where were you on September 11, 2012, at 7 p.m.? Madame secretary of state, where were you at 7 p.m. on September 11, 2012?'"

With exasperation, the Marine concluded, "Obama's people are not veterans, in fact, many of them hate the military. The Muslim Fort Hood shooter is still getting his pay, while his victims, the ones that lived, get no benefits. Obama says it was 'workplace violence' and not terrorism. Enough said!"
Funny how they all just happen to parrot Walsh's views.
Posted by Terry K. at 3:30 PM EDT