MRC Slams Disney for Not Hating Gays Enough
Topic: Media Research Center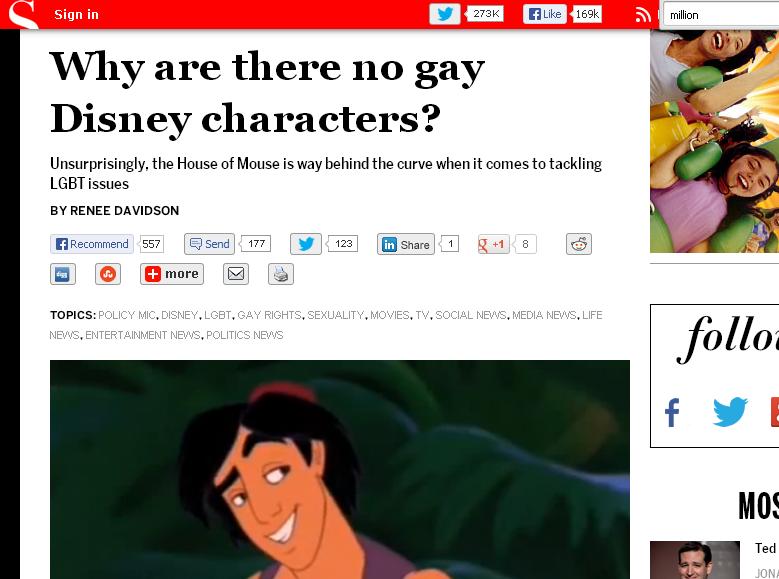 In a June 3 Media Research Center Culture & Media Insitute article, Lauren Enk has a fit over a Salon article asking why Disney hasn't yet created a gay cartoon character. If anything, Enk argues, Disney has been too accomodating to the "gay bandwagon":
Never mind that Disney's theme parks have already hopped on the gay bandwagon by hosting massive gay celebrations called "Gay Days." And apparently it doesn't matter that Disney Channel president Gary Marsh admitted their shows include possibly-gay characters "for the audience to interpret." That's not quite enough for Davidson; she claims Marsh is just "shaking off any role or responsibility in providing gay visibility."

Her attack on Disney's heterosexuality wasn't a surprise to find on Salon, of course, which is just keeping up it's reputation for celebrating all things that push the gay agenda in gender portrayals.

But then again, Disney has shown signs in the past of caving to whatever political agenda hits the mainstream, and gender-bending cartoons are already starting to surface elsewhere. If the pressure keeps mounting, perhaps a Princess Boy will be next in the line-up of Disney's leading ladies.
Enk also sneers at "Archie Comic's recent money-making decision to portray it's first 'gay kiss.'" God forbid anyone should do anything to make money.
Enk, after all, is keeping up the MRC's reputation for bashing all things gay, screeching offense at any positive portrayal of gays in the media.
Posted by Terry K. at 9:44 PM EDT