CNS Still Mainstreaming Boebert's Extremism
Topic: CNSNews.com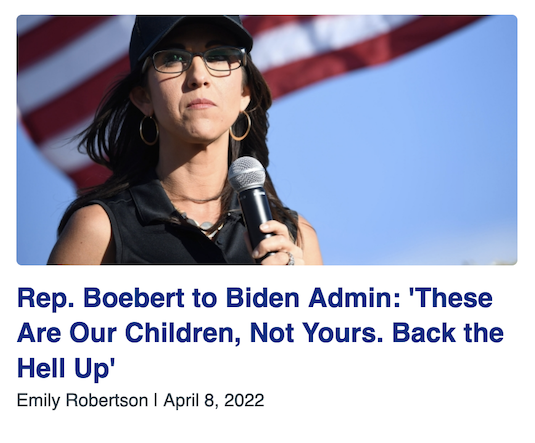 CNSNews.com has a history of promoting Republican Rep. Lauren Boebert while censoring the fact that she's a right-wing extremist who has been a follower of QAnon and whose origin story of getting involved in politics because someone was killed outside her restaurant has been proven to be a lie. Now CNS is ramping up its promotion of Boebert again. Managing editor Michael W. Chapman touted Boebert's transphobia (as well as his own) in an April 1 article:
House Representative Lauren Boebert (R-Colo.) introduced a resolution on Wednesday to recognize U.S. Olympic and college swimmer Emma Weyant as the real 1st place winner of the 2022 NCAA Division I Women's Swimming championship because transgender "female" Lia Thomas, a biological male, was awarded the winning medal.

"Whereas Emma Weyant's first-place medal was stolen from her by a man competing in women's swimming: Now, therefore, be it Resolved, That the House of Representatives recognizes and honors Emma Weyant as the rightful winner of the 2022 NCAA Division I Women's 500-Yard Freestyle," reads the resolution introduced by Rep. Boebert.

[...]

Emma Weyant, a real woman, who won a Silver Medal in the 2020 Olympics and swims for the University of Virginia, competed against other women and Thomas at the event. Thomas came in first, Weyant was second, and Erica Sullivan came in third in the 500-yard freestyle race.
Emily Robertson gave Boebert to rage against the idea that LGBQ should not be hated or discriminated against in schools in an April 8 article:
Rep. Lauren Boebert (R-CO) called out the Biden Administration's unsettling promotion of gender reassignment surgeries on children, saying "Get out of our lives, get out of our homes, these are our children, not yours. Back the hell up," while speaking with Fox News host Laura Ingraham Thursday.

Boebert appeared as a guest on Ingraham's show, relaying her concern about children and how American tax dollars may be used to support gender reassignment surgeries on boys and girls due to the Biden Administration and Secretary of the U.S. Department of Health & Human Services (HHS) Xavier Becerra's promotion of the transitioning of children.

"Laura, you know, this isn't pleasant, but we need to know if our tax dollars are going to remove the breasts of young girls, if our tax dollars are going to remove the genitalia of our young boys," Boebert said. "These are children and my message to the Biden regime is get out of our lives, get out of our homes, these are our children, not yours. Back the hell up."
We feel sorry for any Boebert children who fail to become good little Boebert-bots as she demands.
Chapman returned to let Boebert spew hate at DHS secretary Alejandro Mayorkas for committing the offense of wanting to counter disinformation in an April 29 article:
House Rep. Lauren Boebert (R-Colo.) announced today that she is crafting a bill that would defund and prohibit the Department of Homeland Security's (DHS) "so-called Disinformation Governance Board," stating that the board is a Stalinist-like "Ministry of Truth."

She also said that DHS Secretary Alejandro Mayorkas is "a traitor to the Constitution" and should be impeached.

[...]

The board has been denounced by many Republicans, civil libertarians, and legal experts, and likened to the "Ministry of Truth" in George Orwell's dystopian novel 1984.
Chapman offered no proof that this is actually the case -- afater all, his job is to serve as stenographer for conservatives and right-wingers, not a fact-checker of them.
Posted by Terry K. at 2:37 PM EDT