WND Cheered Anti-Vax Trooper -- But Censored His Death From COVID
Topic: WorldNetDaily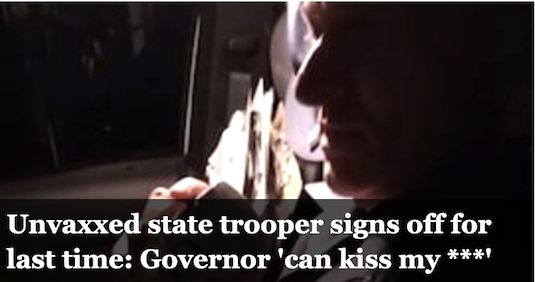 Art Moore cheerfully wrote in an Oct. 18 article:
Signing off for the last time after 22 years with the Washington State Patrol, a trooper who refused to comply with Gov. Jay Inslee's vaccine mandate had a few parting words for the Democratic leader: "Kiss my ***."

As the deadline for getting vaccinated passed Monday and the state patrol braced for the loss of as many as 100 troopers, Robert LaMay of Yakima County in central Washington videoed his final call on the radio, thanking his colleagues for their work and support, reported Jason Rantz of KTTH Radio in Seattle.

Only three years from full retirement, LeMay, a Christian with religious objections to the vaccine, said Friday night it's about religious liberties and freedom.

"This is my final sign-off. After 22 years of serving the citizens of the state of Washington, I'm being asked to leave because I am dirty," LaMay announced, referring to his unvaccinated status. "Numerous fatalities, injuries, I've worked sick, I've played sick. We've buried lots of friends over these years. I'd like to thank you guys. I'd like to thank the citizens of Yakima County as well as my fellow officers within the valley. Without you guys, I wouldn't have been very successful. And you kept me safe and got me to my family every night. Thank you for that."

LaMay, a married father of four, became visibly emotional as he continued.

"I wish I could say more, but this is it, so state 10-34, this is the last time you'll hear me in a state patrol car. And Jay Inslee can kiss my ***."
But a couple months later, a painfully ironic thing happened:
A former Yakima area-based Washington State Patrol trooper whose resignation over mandated COVID vaccination for state employees went viral has died.

The State Patrol announced Robert LaMay's death Friday. He was 50.

While the State Patrol statement did not include LaMay's cause of death, other news outlets have reported that he died after contracting COVID-19.
That's right -- a trooper who profanely quit his job rather than get a vaccine died of the disease the vaccine was designed to prevent. It will not surprise you to learn that WND censored the news of LaMay's ultimate outcome from its readers, even though it happened more than a month ago. It's not alone: The Fox News hosts who feted LaMay upon his resignation also wouldn't report his death.
Refusing to report news that undermines your editorial agenda is not the way to build trust in your news operation.
Posted by Terry K. at 12:07 AM EST
Updated: Saturday, March 5, 2022 12:11 AM EST