MRC's War on NewsGuard Continues
Topic: Media Research Center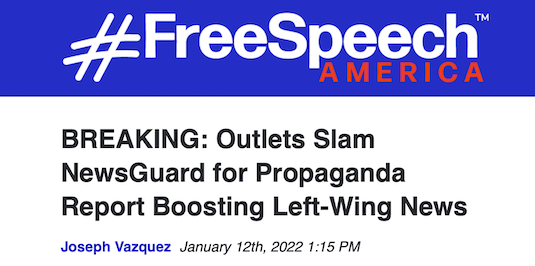 We've documented how the Media Research Center is current running a war against website credibility rating firm NewsGuard, and it's continued to get as nasty as it is one-sided.
Brian Bradley spent a Dec. 20 post whining that NewsGuard signed a deal with an ad-services company to help it "prevent monetization on the platform by news sites that NewsGuard does not rate as 'generally trustworthy,'" attacking NewsGuard's filtering process as "arbitrary" withoutproviding evidence to back it up. Bradley remained performatively butthurt about NewsGuard's ratings: "NewsGuard scored The Federalist, a right-of-center online publication, according to AllSides, with a 12.5 rating for "credibility," apparently for questioning the efficiency of mask mandates, but rated socialist site Jacobin at 92.5. Jacobin vomited a piece last year heralding that "[s]ocialism is back on the agenda in the United States. Thank God." Bradley didn't explain why a publication should be rated lower simply because it advocates a viewpoint he personally disagrees with (or why Jacobin got the "socalist" tag while the Federalist was described as being merely "right-of-center."
Note that the MRC has never done a content analysis to prove wrong NewsGuard's contention that the conservative outlets it rated as lower than the liberal ones. It is simply demanding ratings parity without any justification.
Tierin-Rose Mandelburg rahashed the MRC's attack line on NewsGuard, and its bogus study hack-job in a Dec. 29 "CensorTrack" video, again complaining that it rated Jacobin higher than the Federalist. She attacked NewsGuard's rating system as "a roundabout way to censor conservative voices," despite the fact that neither she nor the MRC have proven that NewsGuard is trying to do that or even that its scoring system has a documented bias.
Joseph Vazquez deoted a Jan. 12 post to marshaling a full right-wing attack against NewsGuard, which he baselessly labeled "left-wing" as well as pushing other misinformation:
The left-wing media's Ministry of Truth — website ratings firm NewsGuard — is at it again, slamming conservative news outlets while promoting liberal rags. And conservative leaders are furious.

The firm's report headlined, "Special Report: The U.S. Best and Worst of 2021," claimed to "identify the misinformation websites with the most online engagement in 2021 in the United States." In addition, NewsGuard alleged, "We also highlight a selection of the trustworthy sites that are producing reliable journalism, including for local and niche markets."

NewsGuard had two lists sub-headlined "The Ten Most Influential Misinformers" and "The Ten Top 'Trustworthy and Trending' Sites," respectively.

Not surprisingly, NewsGuard labeled websites like The Federalist, Newsmax, LifeNews, LiveAction and ZeroHedge "misinformation," and mostly left-wing propaganda websites like NPR, The New York Times, The Guardian, The Washington Post and NBCNews.com "trustworthy."
Only at the MRC would established established news operations with decades of balanced journalism under their belts like the Washington Post and the New York Times be considered"left-wing propaganda," while the right-wing sites be described only as "conservative" and not the right-wing propaganda they actually are. He also didn't mention that, for example, ZeroHedge has a documented history of spreading misinformation. Instead, he let Newsmax respond:
NewsGuard flogged Newsmax, which received an absurd 35/100 score, for allegedly publishing "false and unsubstantiated claims about vaccines and COVID-19." Newsmax said in a statement to MRC's Free Speech America that it "strongly supported both the effectiveness of vaccines and CDC efforts to contain COVID. We frequently quote top medical experts for our reports. Not every medical expert agrees with all government policies, and Newsmax will occasionally publish such disagreements."

Newsmax then slammed NewsGuard: "News[G]uard is a leftwing media 'critic' that smears conservative media in favor of liberal outlets, as their ranking lists so well demonstrate. News[G]uard has no credibility as a neutral observer."
In fact, we've caught Newsmax publishing numerous examples of COVID misinformation, which trying to disavow responsibility for doing so with a disclaimer that the columns were written by a "non-clinician." And Vazquex didn't mention that Newsmax is currently being sued by election-tech firms Dominion and Smartmatic for publishing false information about them in pushing Donald Trump's Big Lie about 2020 election fraud.
Vazaquez get another criticized outlet a say:
LifeNews, which got a 30/100 rating, was smeared for allegedly publishing "false health claims about abortion safety and about COVID-19." The outlet's founder, Steven Ertelt, told MRC's Free Speech America that "NewsGuard is not a legitimate fact-checking outlet, but rather it's a biased left-wing web site run by former liberal media staffers that presents a one-sided view falsely alleging that pro-life content is not factual simply because it disagrees with the content."
In fact, LifeNews has been busted spreading false information about President Biden's views on abortion and about Planned Parenthood. Vazquez didn't mention that either.
Despite actual facts to back him up, Vazquez came back on Jan. 17 to rant against CNN's Brian Stelter for having NewsGuard officials on:
CNN's Reliable Sources anchor Brian Stelter slobbered over the leftist website ratings firm NewsGuard as some sort of paragon of journalistic virtue.

Stelter fawned in a Jan. 16 blog how NewsGuard announced that its business was "reliable enough to turn a profit." But here was the senseless part: "Although there are many quibbles with specific rulings about certain sites, the results are directionally reliable, distinguishing global newsrooms that try to report fairly from fly-by-night sites that publish propaganda with no regard for reality."

[...]

Stelter brought two NewsGuard executives on the Jan. 16 edition of his show so he could further propagandize about the firm. NewsGuard "tries to cut through the noise of misinformation and deception and helps advertisers do that by letting them know when their ads are running on sites full of nonsense," Stelter cheered. How can Stelter cheer about "sites full of nonsense" when rags like leftist magazine The Nation publish "nonsense" defending "property destruction" as integral to the success of a left-wing "uprising" score a high "92.5" on NewsGuard?
Again, Vazquez demands punishment of a publication simply for having a political view different from his. That's not the way to build and defend and arguemnt -- but it is the way the MRC insists on operating.
Posted by Terry K. at 10:20 PM EST
Updated: Monday, February 14, 2022 10:28 PM EST