Rogan Patrol: Faced With Defending Rogan's Use Of N-Word, The MRC Plays Whataboutism
Topic: Media Research Center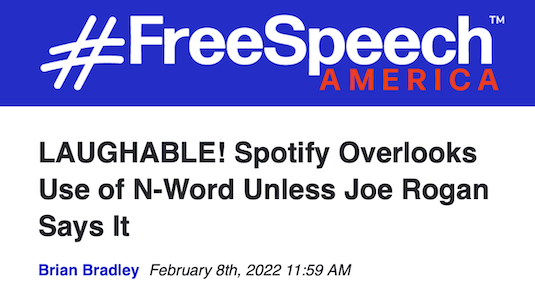 When you commit to something the way the Media Research Center has to defending Joe Rogan's COVID misinformation, you're pretty much stuck defending everything he does. A Feb. 1 post by Jeffrey Clark got mad at Rolling Stone magazine for pointing out how Rogan was joined by right-wing guru guy Jordan Peterson to spread misinformation about climate change:
The left-wing orthodoxy has spoken: Podcast host Joe Rogan must be banished from society. Rolling Stone slammed Rogan and clinical psychologist and University of Toronto professor emeritus Dr. Jordan Peterson in a self-righteous hit piece. Rogan and Peterson's crime? Having the nerve to discuss climate change.

Rolling Stone contributing writer Jack Crosbie, who also writes for the self-described "leftist politics and culture site" Discourse Blog, appeared to be especially outraged. In a Jan. 26 article headlined " Joe Rogan and Jordan Peterson Wax Idiotic on Climate Change and What It Means to Be Black," Crosbie declared Rogan, a world-famous podcast host, and Peterson, a renowned clinical psychologist, "two of the dumbest people on earth." The controversy stems from a conversation Rogan and Peterson had on The Joe Rogan Experience, posted Jan. 25 to Spotify.

To Crosbie, the "four-hour marathon conversation on The Joe Rogan Experience" was "stupid." He griped, "Their topics were varied, but almost all of them were intensely stupid, if not incoherent."

[...]

Peterson noted: "There is no such thing as climate. 'Climate' and 'everything' are the same word." Rogan pushed Peterson to clarify, and he explained: "[T]hat's what people who talk about the 'climate apocalypse' claim in some sense: 'We have to change everything.'" Peterson continued, "And the same with the word 'environment' … it means so much that it actually doesn't mean anything."

Crosbie interpreted Peterson's comments as "a theory on climate change loaded with circular arguments that all come back to the same point: It's not real."

That is unfair and untrue. Peterson never said in this interview that "climate change" was a hoax. If he did, Crosbie almost would have likely clipped Peterson saying that. Peterson instead criticized believers in "climate apocalypse" who think "the planet has too many people on it." For Rolling Stone to arbitrarily cast Peterson's comments as "intensely stupid" and "incoherent" is just babble wrapped in hyperbole.
Note that Clark barely quotes from the podcast to defend Peterson, suggesting there's probably a lot more to Rolling Stone's analysis that he's ready to admit. Also note that Clark doesn't state the obvious, that neither Rogan nor Peterson have any demonstrated expertise on the issue of climate, as demonstrated by Peterson's bizarre assertion that there's no such thing as climate.
Meanwhile, a new Rogan issue was brewing. Autun JOhnson hinted at it in a Feb. 5 post noting that "Spotify has removed approximately 70 episodes of" Rogan's podcast, though she misleadingly complained that "Many on the left have attacked Rogan for his promotion of alternative treatments of COVID-19" without proving any link between the two. Meanwhile, a Feb. 6 post by Clay Waters complained that a New York Times opinion piece "called for the massively popular podcaster Joe Rogan to be censored by his hosting platform Spotify" (invoking hte ag populum fallacy again). When the writer noted Rogan's history of transphobia and racism and his giving a platform to the likes of Alex Jones, Waters played whataboutism: "Wait until these benighted folks discover the history of Sirius XM podcaster (and former radio shock jock) Howard Stern."
What happened was that a clip compiliation was released on Feb. 4 summarized Rogan's enthusiastic use of the N-word. Alexander Hall couldn't even acknowledge the existence of that clip in a Feb. 7 post, vaguely stating only that there "outrage over past language" and cheering Spotify for continuing to stand by him. Hall also complained that tech writer Kara Swisher called out Rogan defenders for claiming that his critics want to "silence" him when they haven't really done that.
Brian Bradley went full whataboutism in a Feb. 8 post, expressing faux shock that -- gasp! -- rappers say the N-word:
The platform continues to host a ton of content brimming with references to the racial slur, including one Lil' Jon song that belts the N-word a whopping 152 times. This is after 70 episodes of the well-known Joe Rogan Experience podcast were removed from Spotify over the weekend, reportedly because of the host's past use of slurs.

[...]

Spotify didn't respond to a Media Research Center request for response on whether the platform plans to remove any of the above songs/purge all content containing the N-word, or whether its policy on removing racially insensitive content applies only to Rogan.
Spotify clearly knows better than to try to engage with a bad-faith actor like the MRC.And Bradley certainly won't concede that black rappers use the N-word in a much different context than a white podcaster does.
Johnson served up more whataboutism in a Feb. 10 post:
Since many on the left have called on Spotify to remove Joe Rogan's podcast from its lineup, it is worth noting that the podcasts of convicted criminals and alleged racists are still up.

Rogan has faced criticism on the left for allegedly spreading "misinformation" about COVID-19. Earlier in the week, Newsbusters reported that several songs on Spotify contained obscene material that included various uses of the N-word, while Rogan was singled out after he quoted someone who used the word.

Fox Business reported that Spotify "rarely censors content" and first pointed out that Louis Farrakhan's podcast was still listed on the platform, despite the fact that he is notorious for his anti-Semitic comments. Gary Glitter, a convicted pedophile and glam rock singer, also had his podcast present, as well as that of R. Kelly, who was found guilty of sex trafficking, kidnapping, and more.
The same day, Hall lovingly wrote of "legendary podcaster" Rogan defending himself, with a little added defense of his own:
The embattled legendary podcaster Joe Rogan defended his right to speak his mind on his podcast.

Rogan, host of The Joe Rogan Experience podcast, slammed recent Cancel Culture witch hunts against his show: "This is a political hit-job, and so they're taking all this stuff that I've ever said that's wrong and smushed it all together," he declared in a Feb. 8 podcast episode. While Rogan suggested that "you should apologize if you regret something," he warned that there is a very clear line that must not be crossed: "I do think you have to be very careful to not apologize for nonsense."

[...]

A major Cancel Culture campaign began in late January, when musician Neil Young issued an ultimatum to Spotify that he would remove his music if Rogan were to keep questioning Covid narratives. Later, 70 episodes were removed from Spotify after Rogan was criticized for past use of the N-word, despite its common usage in rap songs on Spotify.
Again: Rogan was not criticized for "questioning Covid narratives"; he was criticized for spreading documented misinformation. The MRC apparently doesn't understand the difference between the two.
Posted by Terry K. at 9:56 PM EST
Updated: Sunday, March 6, 2022 10:11 PM EST