WND Misrepesents Letter To Editor As Research In 'Prestigious' Journal
Topic: WorldNetDaily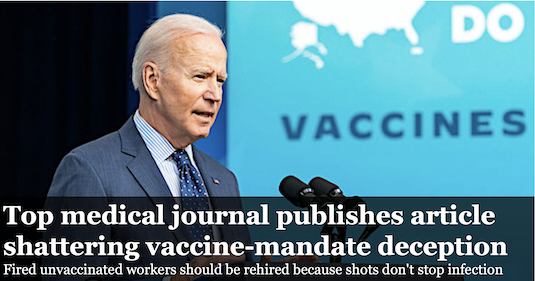 WorldNetDaily's parade of COVID misinformation continued in a feb. 2 article by Art Moore:
The prestigious British medical journal The Lancet has published an article by a University of Colorado infectious disease scientist concluding vaccine mandates should be reconsidered in light of studies finding the vaccines are not stopping transmission of the SARS-CoV-2 virus.

Carlos Franco-Paredes of the University of Colorado's Division of Infectious Diseases, wrote that "the impact of vaccination on community transmission of circulating variants of SARS-CoV-2 appeared to be not significantly different from the impact among unvaccinated people."

The scientific rationale for mandatory vaccination in the USA relies on the premise that vaccination prevents transmission to others, resulting in a 'pandemic of the unvaccinated," he noted. "Yet, the demonstration of COVID-19 breakthrough infections among fully vaccinated health-care workers (HCW) in Israel, who in turn may transmit this infection to their patients, requires a reassessment of compulsory vaccination policies leading to the job dismissal of unvaccinated HCW in the USA."
Meanwhile, a fact-checker looked into the article:
[T]he text forms part of "correspondence" authored by Carlos Franco-Paredes, an infectious diseases expert and associate professor at the University of Colorado, which was published by The Lancet Infectious Diseases journal in January.

In other words, the text forms part of a letter to the editor.

According to a spokeswoman for The Lancet Group, such letters represented the views of the author and "not necessarily the views of The Lancet journals".
Moore falsely suggested the article was research when it was actually the research journal's equivalent of a letter to the editor, and he got it wrong by falsely claiming the article was published in The Lancet when, in fact, it appeared in a separate specialty journal.
Moore also curiously omitted the very first sentence of Franco-Paredes' letter, in which he declared: "Vaccine effectiveness studies have conclusively demonstrated the benefit of COVID-19 vaccines in reducing individual symptomatic and severe disease, resulting in reduced hospitalisations and intensive care unit admissions."
That's a lot of deception and inacuracy for a single article. No wonder nobody trusts WND.
Posted by Terry K. at 5:25 PM EST
Updated: Thursday, March 3, 2022 9:20 PM EST