The MRC's Pro-Misinformation Brigade Stays On Rogan Patrol
Topic: Media Research Center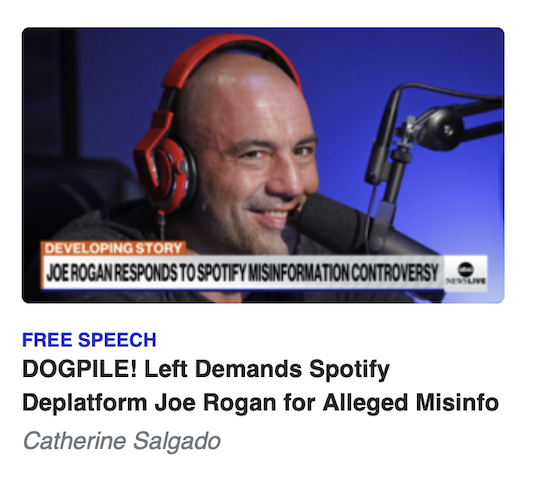 Just because Joe Rogan quasi-apologized for spreading misinformation doesn't mean the Media Research Center had finished defending his right to spread it. Curtis Houck kept up the whining that Rogan was being held accountable in a Jan. 31 post:
All three major broadcast networks continued on Monday morning to do their part in the push to remove Joe Rogan from the public square over his top-rated Spotify podcast under the guise of COVID-19 falsehoods. In the case of ABC, CBS, and NBC, they ratcheted up the rhetoric from when they first covered it last week, calling his show and views "dangerous" "misinformation" with one implicitly tying him to Americans who've died from the virus.

CBS Mornings was the most sinister, insisting they support "free speech" and First Amendment rights while also demanding Rogan be prevented from having a "massive" "platform as large as Spotify" because "a lot of people do listen to" him.

"What to Watch" host Vladimir Duthiers reported on "developments in the controversy over misinformation...on Joe Rogan's popular podcast" with rocker Neil Young having his music removed from Spotify because he "and others say...Rogan's show promote[s] false information about COVID-19 and the vaccines."

It should be noted Young's 2006 tour was entitled "Freedom of Speech" as a slight against George W. Bush. How the tables have turned for this hippie!
Only at the MRC would it be considered "sinister" to hold someone accountable for their behavior. And Houck offered no evidence that "freedom of speech" protests lies and misinformation.
Nevertheless, he went on to rant that this was all an "open example of collusion to censor those the liberal media oppose." Never mind that his job is to censor the speech of people right-wing activists like him oppose.
Alex Christy took a predictible shot at the evil (in the fevered brains of the MRC minions, anyway) Brian Stelter of CNN, complaining thathe said that CNN ismore trustworthy than Rogan -- an indisputable truth.Still, Christy felt the need to sneer in response that "Stelter's claim that CNN can better discern what is true than the average Joe Rogan listener is not something backed by evidence" -- though he offered no direct comparisons of CNN vs. Rogan.
Catherine Salgado, meanwhile, screamed "DOGPILE!" in the headline of her post:
Leftists called on Spotify to ban popular podcast host Joe Rogan over alleged COVID-19 "misinformation." Rogan has interviewed doctors on his show who dissent from the left's COVID-19 narratives.

Rogan's enormously popular podcast "The Joe Rogan Experience" is exclusive to Spotify, but leftists railed against the streaming platform and demanded he be deplatformed. Rogan interviewed both experienced cardiologist Dr. Peter McCullough and mRNA vaccine patent holder Dr. Robert Malone.

The left has repeatedly vilified Malone and McCullough for scientifically dissecting many touted COVID-19 narratives. By calling for Rogan to be banned, leftists have made it clear that anyone who disagrees with them shouldn't have a platform to speak freely.
Notice all the fallacial appeals Salgado invoked -- the ad populum fallacy in touting how Rogan is "enormously popular," and the credentials fallacy in hyping the medical and research credentials of McCullough and Malone and ignoring the fact that both have been repeatedly discredited. And her insistence on putting scare quotes around "misinformation" shows that Salgado is never going to admit Rogan, McCullough and Malone ever misinformed people -- even as she refuses to lift a finger to prove that claim correct, as proven by her false statement that they stand accuse of "dissent[ing] from the left's COVID-19 narratives." No, they're accused of dissenting from established medical reality, and the fact that Salgado considers medical reality merely a "narrative" from "the left" tells you all you need to know about how the MRC and the rest of the right-wing media have politicized COVID.
Salgado went on to complain:
Many "theories" were aggressively dubbed "misinformation" earlier in the pandemic, such as the lab leak theory of COVID-19 origins and the fact that vaccinated individuals can contract COVID-19. These same "theories" have now been shown to be plausible or true, and authorities have now acknowledged the veracity of emergent facts. Furthermore, while a letter to Spotify from medical and scientific professionals has hundreds of signatures, over 17,000 scientific and medical professionals have signed the Rome Declaration condemning many touted COVID-19 measures.
As we noted when Rogan claimed it, the lab leak theory has yet to be proven conclusively true, andthere's little evidence that COVID-19 is a Chinese-made bioweapon. While there is a Rome Declaration on COVID -- created last May by the European Union -- that's not what Salgado linked to. Instead, she linked to a different declaration from a group of fringe doctors and researchers -- including Malone and McCullough -- who oppose COVID vaccines and have pushed dubious treatments such as ivermectin.
Pro-misinformation advocate Alexander Hall complained that the White House wanted to do something about it in a Feb. 2 post:
White House Press Secretary Jen Psaki called on music and podcast streaming platform Spotify to tighten its grip on speech to stop so-called "misinformation." It's a culture-war tactic often used by the left: Accept some subservience by others to its agenda, but say that's only a start.

Psaki gave minor praise to Spotify for announcing it will add disclaimers on podcaster Joe Rogan's podcasts, but said that is only a fraction of the censorship it should be doing.
Hall is lying -- Psaki is not calling for "censorship," and Hall knows it. Nevertheless, he kept trying to put that word in her mouth.
Clay Waters used a Feb. 3 post to attack a New York Times reporter over his article on Rogan:
New York Times tech reporter-columnist Kevin Roose took on the controversy between hugely popular podcaster-interviewer Joe Rogan and the music-media streaming provider Spotify over supposed misinformation Rogan spread about Covid vaccines in an interview with a controversial doctor. The story dominated the front of Tuesday's Business section: "Staying Power Of an Uproar."

It wasn't hard to spot Roose was setting Rogan up for a fall. His jittery fear of conservative "misinformation" online has only increased during the COVID era and the Black Lives Matter riots:

[...]

It's clear how Roose wants it to end, given his obsession with "misinformation." As if Rogan is purposely spreading lies (and who decides what is "misinformation" on Covid anyway?), as opposed to drawing out controversial figures in interviews.
It's not hard to identify COVID misinformation, Clay. You and the rest of the MRC pretend that there is no such thing as objective misinformation in order to give you and other right-wing media outlets a lane to spread more.
Posted by Terry K. at 9:33 PM EST
Updated: Friday, March 4, 2022 9:36 PM EST