WND Promote Anti-Gay Group's Harassment of Teacher
Topic: WorldNetDaily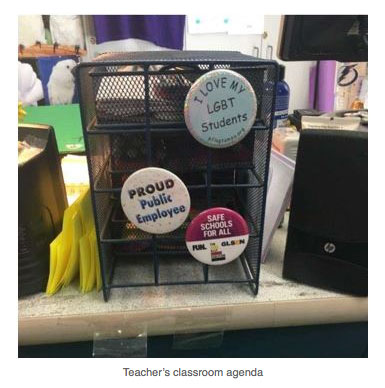 Bob Unruh writes in a May 20 WorldNetDaily article:
A Florida school district delivered an "unsatisfactory" response to a legal team representing several Christian students who claimed they were bullied in class by a teacher because of their faith.

Among other things, the teacher repeatedly ordered students wearing cross necklaces to cover them up or take them off.

So lawyers with Liberty Counsel are giving the district another chance, this time in a letter with a specific list of instructions for officials at Hillsborough County Public Schools.

The influential legal organization warns it is willing to "take further action to prevent irreparable harm to the rights of our clients."

WND reported last month Liberty Counsel officials said the teacher, Lora Jane Riedas, a member of the Gay, Lesbian and Straight Education Network's Leadership Institute, had gone overboard in her LGBT advocacy.

She featured classroom décor that "blatantly promotes a pro-LGBT agenda," reportedly retweeted during the school day "favorite queer web series for kids" and prohibited "at least three students from wearing Christian cross necklaces because she views them as 'gang symbols.'"
Because Unruh is simply writing a Liberty Counsel press release, he doesn't report that the group's attacks on Riedas have been discredited.
As an actual news organization reported, Riedas says she never banned students from religious jewelry: "I'm a Christian myself. I would never do that because I would be hurt if someone would tell me not to wear my cross." And rosary beads are, in fact, considered gang symbols.
That news organization also reported that Liberty Counsel's anti-Riedas campaign is prompting students to harass her:
As the story circulates, students in one class have taken the opportunity to challenge her. Some came to class with rosary beads. They drew crosses and wrote Bible verses on the back of their math papers.

"They're starting to pull other kids in who either don't care or just want to be part of the drama," Riedas said. "Some of them think it's a game, that it's fun. It's affecting our school like a virus."

Two years ago Riedas was recognized by her peers as Riverview's Diversity Educator of the Year. Now she just wants to quietly teach. She blames adults, not kids, for the disruption.

"I'm just annoyed that they're using my students," she said. "They're manipulating them. They're getting kids as teenagers to lie for their agenda."
Unruh went on to uncritically promote Liberty Counsel's harassment campaign against Riedas -- which even extends to attacking her Facebook and Twitter posts made on her personal time -- and its censorious demands to the school district that employs her, which include removal of anything signifying that her classroom is a safe space for LGBT students or others who need a sanctuary and even buttons on her desk that say "proud public employee" and "safe schools for all." A picture of the buttons accompanies Unruh's article, with the caption, "Teacher's classroom agenda." Unruh doesn't explain how having pride in being a public employee can be a "classroom agenda."
Needless to say, Unruh includes no response from Riedas or the school district to Liberty Counsel's attacks, instead whining how the school once left him in on-hold purgatory. Unruh could have included that response as reported by actual news organizations, but he chose not to -- which further illustrates that Unruh is much more interested in conforming to Liberty Counsel's agenda than being a journalist.
Posted by Terry K. at 3:57 PM EDT
Updated: Monday, May 29, 2017 10:51 PM EDT